This is a track record and template of coordination responsibilities and processes for Edgeryders' H2020 project coordination so that there is accessible documentation available for re-use and scaling.
This process template was originally started as a spreadsheet but now takes the form of this manual. It is a wiki so accessible for common input and insights.
Bold italics denotes what is currently being addressed on POPREBEL and NGI Forward, two upcoming H2020 projects from 2019 - 2021.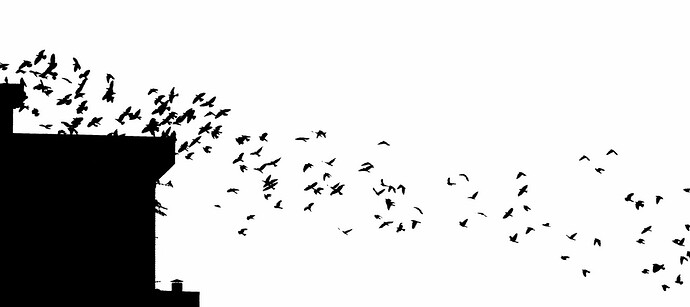 (image credit: Comrade King '"caw" says the crow')
Content
1. Edgeryders' project coordination responsibilities
2. Consortium Coordinator responsabilities
3. Grant Agreement preparation
4. Between Grant Agreement and project start
---
1. Edgeryders' project coordination responsibilities
(Preliminary list)
1.1. Formal and strategic
Host big picture view of the project's implementation and strategic positioning (such as with European Commission Policy Officers, relevant sector events and with other consortia responding to the Call).

Represent Edgeryders in formal negotiations and with consortium partners.

Inform the LSIGN (at this stage @alberto) of necessary tasks and provide sufficient background documentation.

Prepare and deliver all necessary administrative and financial reporting to the Consortium Leader.

Contribute to other consortium wide project management procedures including budget and timesheet tracking.

Keeper of the budget - Devise and manage Edgeryders' project budget.

Liaise between the consortium and Edgeryders' team leaders to ensure deliverable and milestone requirements are clearly communicated and met.
1.2. Teams to tasks
Gauge availability and interest of Edgeryders' team members and agree on Task Team Leaders.

Provide Task Team Leaders with specifications and sufficient background materials and leave them to develop strategies.

Provide Teams with key terms for budget management and internal reporting.

Collaborate with Task Team Leaders on ensuring deliverables are met and adequate choices are made to do so.

Liaise with/between Teams to ensure consistency across the project's implementation
1.3. Operations
Provide a tool for streamlined budgeting and reporting from Team to Project as a whole (more on this in separate post).

Provide an accessible and clear project management platform for Teams to plan and document (Eg. augmented and personalised Dynalist, OpenProject).

Work out loud with key milestones and discussions documented in the project's workspace.

Post regular (monthly/ quarterly) updates on the platform on the project's process.

Host regular project meetings for the Edgeryders Team and community.
2. Consortium Coordinator responsabilities
These can be different between projects and are laid out in the Consortium Agreement (CA) of each project. The following is an example from the POPREBEL CA.
Monitor compliance by the Parties with their obligations.

Keep the address list of Members and other contact persons updated and available.

Collect, review (to verify consistency) and submit reports, other deliverables (including financial statements and related certifications) and specific requested documents to the Funding Authority.

Transmit documents and information connected with the Project to any other Parties concerned.

Administer the financial contribution of the Funding Authority and fulfilling the financial tasks described in Section 7.3.

Provide, upon request, the Parties with official copies or originals of documents that are in the sole possession of the Coordinator when such copies or originals are necessary for the Parties to present claims.
If one or more of the Parties is late in submission of any project deliverable, the Coordinator may nevertheless submit the other 'Parties' project deliverables and all other documents required by the Grant Agreement to the Funding Authority in time.
3. Grant Agreement preparation
See here for generic guidance.
Update Beneficiary details

External
EDGE Project Coordinator
Participant portal
Necessary for Grant Agreement

Associate LSIGN to project

External
EDGE Project Coordinator & EDGE LEAR
Participant portal
Necessary for Grant Agreement

Declaration of Honour

External
EDGE LSIGN
Participant portal (LSIGN receives notification)
Necessary for Grant Agreement

Confirm team leader availabilities to ensure company capacity to deliver

Internal
Edgeryders Project Coordinator
Platform

Post
Direct team meetings
Tech requirements and budget requests

Necessary for EDGE accountability

Review H2020 project coordination templates, guidelines and EDGE H2020 project documentation (eg. OPENCARE) to understand scope and details of administrative requirements

Internal
EDGE Project Coordinator
Online, colleagues in the sector, EDGE files
Necessary for EDGE accountability

Check Estonian legal "employment or equivalent appointing act" adherence

Internal
EDGE Project Coordinator and LSIGN
Necessary for EDGE legals

Review and amend Part A (document to inform Description of Action addendum to the Grant Agreement)

External
EDGE Project Coordinator
Project documents
Necessary for Grant Agreement

Ensure consortium partner Tasks within EDGE WP or collaborative Tasks are re-clarified in writing

External
EDGE Project Coordinator
Direct to partner contacts and project coordinator
Necessary for EDGE accountability and project cohesion

Review and annotate Consortium Agreement

External
EDGE Project Coordinator and LSIGN
Project documents
Necessary for Grant Agreement

Review Annotated Model of Grant Agreement

Internal
EDGE Project Coordinator
Consider requirement of Joint Ownership Agreement when multiple parties are contributing to SSNA.

Review Horizon2020 Rules for Participation

Internal
EDGE Project Coordinator

Provide CTO/ Tech team with Tech dev specs

Internal
EDGE Project Coordinator

Upload Financial Assessment documents to the participant portal upon request. The Edgeryders OÜ annual report includes the necessary parts (profit & loss, balance sheet, notes, excluding audit information as at this stage we are too small for this.)

External
EDGE LSIGN and Project Coordinator

Prepare timeline, process and infrastructure for managing multiple projects concurrently, open for contribution and feedback (includes process, planning tool/s, reporting tool/s, resources)

Internal
EDGE Project Coordinator
4. Between Grant Agreement and project start
[TODO]
5. During the project
6. References and resources
Horizon2020 and FP7 Reference Documents (including Rules for Participation)

Various files saved in the H2020 Guides and Key Reference Documents folder here