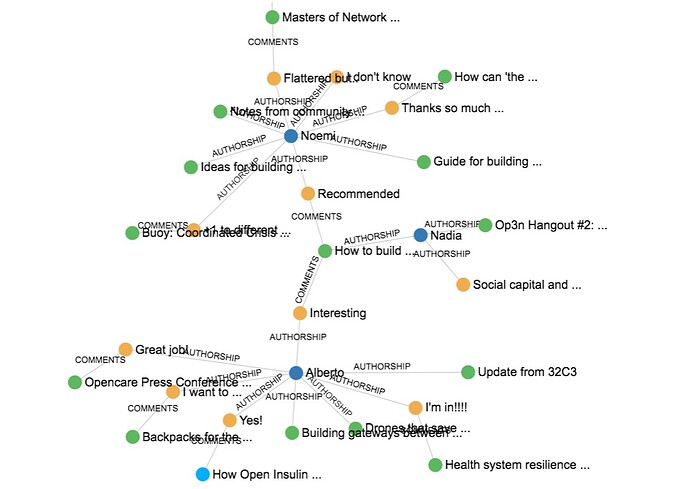 Playing with the newest version of the dashboard. I am unsure how to interpret this view (http://164.132.58.138:9000/#/dashboard/doi). This is the Degree of interest view centered on the post How Open Insulin works to open-source science and medicine by @dfko . The root node is the post itself, (bottom left, in bright blue). It elicited 16 comments, but only one of them – titled Yes! – is shown. Why only one? Why that one (it is neither the first nor the most recent)?
The comment is linked to the dark blue node representing its author, which is me. In turn, that node is linked to four more comments and three posts I authored. Again, why those and not others? The rest of the graph is connected to the root only through one of the other comments by me, (Interesting) which is a comment to a post called How to build a revenure stream to support your activities. This was authored by @Nadia , so it is connected to her node too. It elicited 15 comments, but here we only see one, and that was authored by @Noemi , so that it connects to the upper part of the graph.
It seems very arbitrary and cryptic at first sight. Can @melancon or @Jason_Vallet explain its logic?