Remember when back in December at our Living on the Edge event people were looking into ways to access capital for innovative, off-the-grid projects? It took less than two weeks to mobilize ourselves and apply for the European Social Innovation competition. Out of the total 605 entries from 35 countries submitted end of last year, 7 were produced by Edgeryders members, making us wonder if we would be so lucky to indeed have in our community more than 1% of Europe's social innovating capacity. We can now partially answer that question by proudly presenting Economy as an App as one of the three winners of the competition!!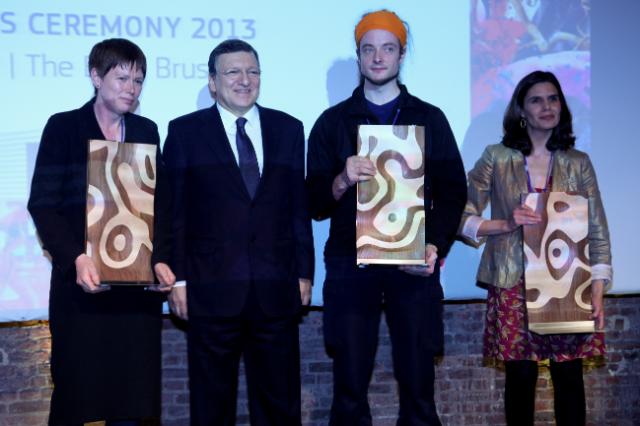 Economy App was awarded 20k EUR to develop a system of network bartering where one can put own resources and skills into a network of trades, that in return and through a sophisticated algorithm, helps them access products or services they need but don't have financial resources to obtain otherwise. I asked Matthias how he feels about winning this prize and how he intends to use this investment, and here's what he thinks:
I'm really grateful for the funding! It allows us to concentrate on developing the software to maturity, and go fast in development. When you always have to do odd jobs to keep yourself afloat while working on your social impact projects, like we did so far, you don't get too much done. Now we have good hopes to be ready with our beta version in time for the launch of the unMonastery in Matera!
For me and the others who were honored to stand by Matthias's side at the ceremony, this is the super sexy project advocated for by N. Hutter from Toniic Europe in the panel: "Why do I invest in social innovation?" - a project that can show financial institutions that you can have a big impact, achieve sustainability and return of investment altogether… and what better way to show this than through an idea that generally assumes no cash exchanges!
Check out the project updates on Edgeryders and remember to be generous with your feedback, now more than ever since the network barter interface is close to a beta and needs our strong support!
Well done, Matthias & Co.!