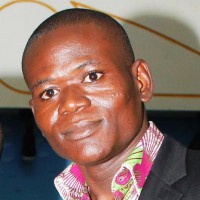 In Benin, the prevalence of high blood pressure is about 30%. Jeal Paul Dossou is one of the leaders of Coeur D'Or, a national network connecting patients with heart conditions or at risk and sharing prevention tips, predominantly in a facebook group of 21,000 members. Facebook is intensively used in sub-Saharan Africa and so provides an interesting recipe for the group communication efforts: they combine serious information with a social take. Coeur D'Or are on their way of reaching critical mass, considerable influence and support for their offline prevention activities despite the fact that many community leaders are not health workers (although general medical advice is part of the group discussions). Meet Jean Paul (@jdossou80@yahoo.com) here.

@Milan_Siegers, Philipp Hainke, Jan Stassen, Taina Sondermann are students at UDK in Berlin. They are designing a pop-up café to facilitate bonding between Berliners and (Syrian) refugees, most of whom are trapped in isolation, boredom and waiting times. The group have started to do practical research and actually visited Tempelhof airfield – now one of the (if not THE) largest ad-hoc camp set up in the decommissioned airport and accommodating 1400 people. Read Milan's story of meeting authorities and being told that a café is a too ambitious task.
@Francesco_Maria_ZAVA is a resident in Milano and also newcomer to our community. He describes himself as someone whose creative capacity well supersedes his (physical) motor capacity. Francesco is a big fan of makers, "artisans of the 21st century" and hopes his lifetime dream of witnessing functional solutions to physical and cognitive disability will finally be met. He's kind enough to acknowledge the potential for disruption of OpenCare because it's set to design social solutions with the view of protagonists and recipients at the core. Say hello to Francesco and exercise your Italian?
Where do these stories go?
The conversations Jean Paul, Milan and Francesco are starting respond to our collective challenge of designing new, open, community led systems of care. They feed right into our OpenCare research and potential to channel support to initiatives in various areas of social- and health care.
All three are of course all eligible to become official OpenCare Fellows, with all the contributors who have responded to challenges. News about OpenCare selected Fellows on June 1st!
How you can get involved? Join the conversation by leaving thoughtful comments to their stories, give advice and signal if you think they're onto something! Consider posting your own story of care. You too will be eligible for OpenCare Fellowships.