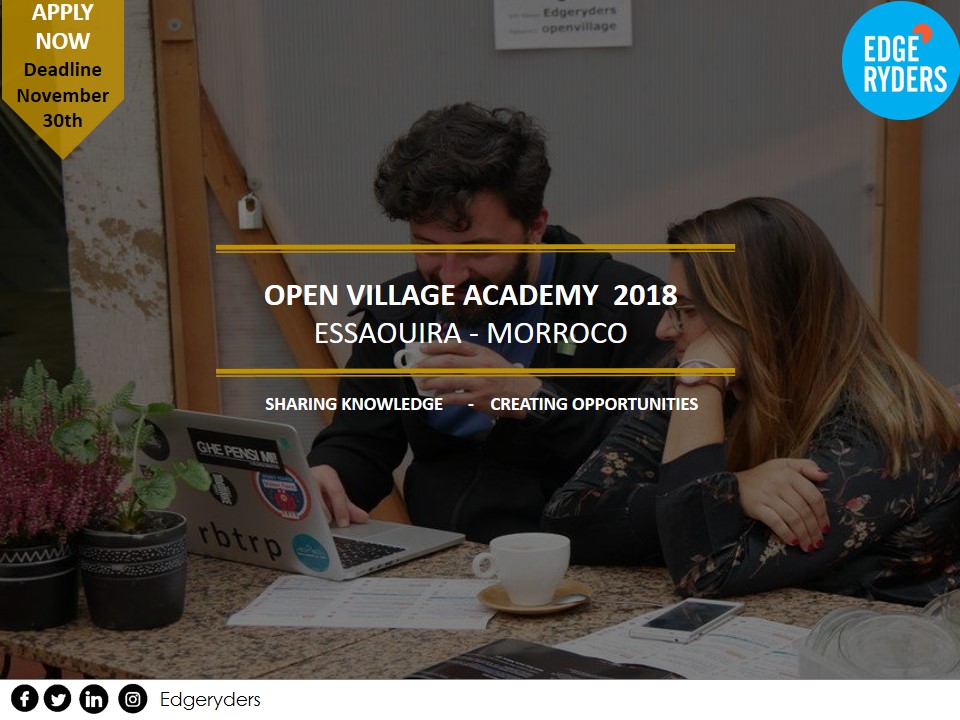 The Open Village Academy is a 3 months program in which participants develop new skills, professional experience and networks by contributing to existing open source projects dedicated to the common good. These are projects lead by peers with more experience, who in return for the contributions to advancing their projects, mentor participants – helping them to identify and develop the skills needed to be good contributors and colleagues.
The program will take place in a calm and inspiring place close to Essaouira, Morocco.
Deadline for applications: Extended till 31th December
Start date: February 2018
Eligibility criteria
You have recently graduated from university or school and are looking for an opportunity to build your skills, professional experience and network. You have at least a basic level in one or more of these skills and would like to put it to work on one of these meaningful projects for three months in the Open Village Academy.
Financial support
Admission to OpenVillage Academy comes with the following support:
Travel reimbursement for up to USD 500.
Free room and board in the OpenVillage House in Morocco, for the duration of your participation.
Technical support will be provided to the selected participants to obtain their visa to Morocco.
How to apply
Create an account on edgeryders.eu and introduce yourself to the Edgeryders community members.
Tell us about your experience and goals: fill in our form
Join our Count On Me mailinglist.
The deadline for the first round of applications to the OpenVillage Academy is November 30, 2017. The result of the matching process and the final list of participants will be communicated through a post on Edgeryders platform in December 2017.
OpenVillage Academy concept
OpenVillage Academy is the result of fieldwork and encounters with more than 200 young people from the MENA region, mainly Tunisia, Morocco, Jordan, Lebanon and Egypt.
This region suffers from a high unemployment rate, from countries in transition to democracy to others encountering economic crises. Countries with different cultures but meeting the same challenges: Reduction of the unemployment rate, economic development and more equality between the different regions of the country. The striking resemblance of young people in their countries is their big ambition and determination to change the reality of their country and contribute actively to its economic development.
In the 7 workshops we conducted in the region where we adopted methodologies specifically designed to help participants design their professional projects, we were able to identify the following three issues:
Companies recruit mainly experienced profiles, making access to the job market difficult for juniors and young graduates.

Business creation / entrepreneurship has been presented to its young people as an alternative to unemployment, however bureaucracy and lack of resources prevent some from embarking on the entrepreneurial adventure.

The environment and working conditions in local businesses do not stimulate the creativity of its young talents, some of them seriously think about leaving their jobs.
To provide an alternative that meets the needs of the majority of the participants, we have integrated the OpenVillage Academy, a new component of the large OpenVillage project. The academy offers a three-month period which allows young people to develop their talents by working on existing open source projects lead by more experienced, entrepreneurial, peers.
This means they develop hard and soft skills by building meaningful things in a supportive and multicultural environment, while supporting one another to move for good projects forward.
In addition to the practical part of the internship that will be provided by the project leader (Edgeryders Community Entrepreneur) and his / her team, the OpenVillage Academy offers participants workshops and activities to strengthen their skills to make them more employable in the labor market.
At the end of his / her course at the open village, a certificate validating the participant's personal qualities, aptitudes, skills and professional know-how will be awarded.