OCI Lab "Open Collective Intelligence Lab" is the first P2P virtual incubator to support aspiring young social and green entrepreneurs in the MENA region in co-creating self-sustaining projects through mentoring, networking, and collective intelligence.
OCI Lab aims to offer a unique and enriching experience of continuous learning and to unlock the power of collective intelligence for the common good in MENA. This first edition of the incubation program 2019-2020 started in December 2019 and ended in June 2020 in partnership with the World Bank. It is powered by Edgeryders community.
To know more about the OCI Lab mission and vision please check our website or FAQ.
The incubator program is articulated around four main components: the online labs, the offline tasks, the webinars conducted by our experts, and finally one lab with OCI lab instructors.
The project leaders have been supported by our talented mentors to whom we owe special thanks for their relevant interactions and assisting productive and fruitful labs / webinars: @AmanyHamdany @Wajdibr @nadia @amiraGbs @Heni.Htira @matteo_uguzzoni @RebekaGluhbegovic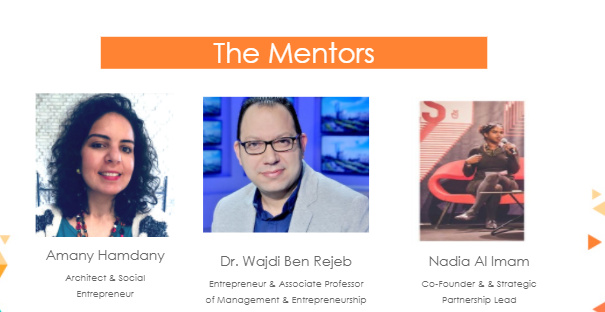 We are glad that we have supported creative talented youth that stood as project leaders in the pre-selected ideas phase of the program. The finalists were selected according to the viability of their business model, and the progress made alongside the incubation program.
The list of the skillful finalists is as follows:
The finalist projects in detail
The project titled "Urben / The Identity App, led by @Salaheddine Ogontayo, is mainly a city exploring assistant for long or short stays.
Its goal is to provide a powerful search engine and a huge database of tips and lifehacks covering the administrative and legal information, entertainment, accessibility and transportation, sports and well-being etc.
In addition, Urban is a marketplace for local small businesses in retails, food and beverage, sport and entertainment, or traditional and cultural enterprises, helping them to gain visibility and target a broad category of potential customers via a user-friendly platform, accessibility via map and branding assistance with low costs.
The team described the impact of OCI LAB experience as valuable, "Thanks to the training and the tasks we discovered well the market needs and we went close to our potential clients, we found a unique value to deliver and we created our first prototypes."
Another skilled project leader to be mentioned is @ayari.taha 's project "AI mental healthcare" that consists of the creation of a predictive model of dementia and in particular Alzheimer's disease. The output will be a patient status and a classification of dementia.
This model will serve as a decision support tool for neurologists. Other users of the app are possible, but for now, the neurologist is their first customer.
"Regarding my experience with OCI Lab, it was excellent.", Taha affirms, "I was able to learn from the experts who coached us, I was able to build my first project team composed of excellent talents and we were able to develop a prototype of my project. Concerning the next steps for my project are the development of my MVP, to test it, and validate it clinically. I am looking to collaborate with national and international research laboratories etc."
The list continues with the project "Didi Asks", led by @HadeerGhareeb, a young and ambitious Egyptian social entrepreneur. Didi Asks is a card game that aims to enhance communication through a journey of questioning and sharing answers while motivated by the joy of playing. It is a multiplayer game using three different types of cards (Questions, Star cards & Game instructions).
Hadeer appreciates her experience with OCI Lab as it has hped in developing the business model and a good understanding of the market which helped us see more opportunities to grow and reach easier those who seek us too. Besides, the financial support from OCI Lab that mainly helped in developing the final product."
"Spellit / Lexi" is another finalist project led by Hasan Haddar and Enactus ENIM that consists of a card game that works on enhancing children's reading skills and tackling dyslexia. The product called "LEXI" is a game accompanied by a book intended for dyslexic children that aim to facilitate their learning. The clients are parents who have dyslexic children between the ages of 7 and 11.
The "Spellit" team says that their vision is to increase the number of packages in order to expand the target market and add more languages to better meet the needs of our customers.
This method helps these children to overcome their disabilities by playing at home or wherever, and parents to monitor their progress using voice recording.
This educational game comes with a user guide that is simple and easy to understand, by the child or by the parents.
The box allows them to be read from programmed cards containing letters and words in Arabic, for children to repeat and record their voices, which allows their progress to be assessed.
Finally, the project "Zellij Invent" led by @Saif Eddine Laalej, which is a green tech solution that sorts and transforms plastic waste into eco-friendly and sustainable paving blocks. Zellij prioritizes partnerships with local artisans to preserve the age-old heritage of Moroccan architecture and to foster a responsible business that drives social and environmental progress.
"After struggling to launch our project Zellij Invent, we decided to join the OCI Lab program in order to get the right tools and support to help us move from an innovative product into a sustainable business model.", Saif affirms.
What is next?
As the first edition comes to its end a special thanks goes to OCI Lab team, @amiraGbs @khouloud.ouesleti @zmorda @nadia @Sohayeb and to our partners hive12 coworking space @ichraf @Jamaity and the Edgeryders community for assuring a pleasant flow of this incubation program. Also, much appreciation is dedicated to the mentors who worked hard to keep everyone well informed and helped guide the contestants throughout the program.
The team is reflecting on how to take the OCI Lab program to the next level and ensure a high quality of peer to peer support.