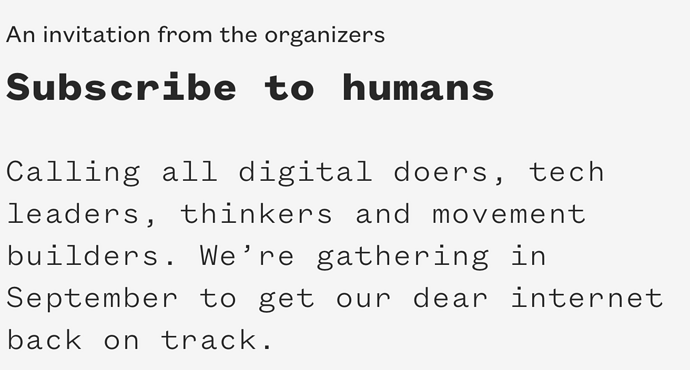 Date: 5/9-7/9 (this week).
10 years after the last edition of Reboot festival closed doors, the organisers launched a new one with what looks like a worthy successor: https://medium.com/@techfestival/in-copenhagen-150-principles-for-a-new-direction-in-tech-b52622ad131b
Thomas Madsen-Mygdal, the driver behind the initiative, has kindly offered me a free ticket to this year's edition. I am personally indebted to for the impact Rebook has had in shaping my own approach to thinking about/around tech and society. And would love to pass it forward to someone who wants to go.
So we are giving away the ticket with some travel support (up to 200 Eur) in exchange for a post on the platform to share what you learn with people who cannot participate in person.
Like Yannick did for re:Publica: https://edgeryders.eu/t/re-publica-what-i-learned-about-cities-as-open-systems-political-memes-makerplaces-and-migration-due-to-loss-of-habitat/5622
Let us know if you want to claim it via either a comment below or a PM to me.
The ticket gets you entry to the event. It also enables you to:
Access all public events, talks, and exhibitions in the outdoor Festival Area
Access the Friday Party at H15 in the Meatpacking District
Get discounts on food and beverages at selected bars and restaurants.