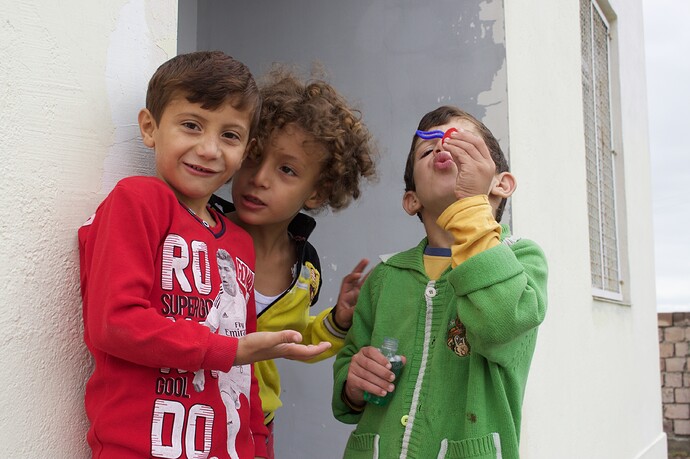 My favourite kids in their temporary house in the outskirts of Yerevan on arrival from Suruc camp in Turkey where they stayed over a year (without a possibility to attend school) after fleeing their home in Kobane, Syria. Photo credit James Aram Elliott on assignment to the Armenian Redwood Project
Armenia is the third European country with the biggest number of displaced people from Syria. Read more
There are many organisations claiming they help the refugees in Armenia but the impact is very little so most of the times the newly arrived refugees are not aware about available services and assistance which results in the majority of them leaving the country in disappointment and failure to find a job/accommodation (the ones that manage to get a visa go to Europe/Canada and the ones who don't have money go back to Syria).
I've helped several newly arrived vulnerable families to integrate, acting like a social worker, finding them accommodation, placing the kids at schools and orientation/training for the adults to find jobs to become sustainable in the long run. In my work I often come across the fact that refugees become overly dependent on our aid when we get too involved. It is very hard to find a balance when we want them to become self-sustainable in the long run. How long shall we provide the housing subsidies? How to help the refugees to become self-sustainable in the long run? What criteria should be used to qualify the family? How can social workers stay objective in evaluating each case? What if after 3-6 months of support none of the family members are able to find a job? What if the available jobs are hardly enough to pay the rent?
E.g. A single father with 4 kids(one of them is mentally disabled) and he just has no way to work even though his disabled son started attending an art therapy workshop(from 10AM to 2PM) he still needs to cook, clean and do house chores during that time. There is no part time job available for him and he is not motivated to look for one neither; he needs psychological help but he refuses it. The government can not offer him a stipend(40 Euros per child/month) since he is not yet a citizen of Armenia and even if he receives the stipend it will not be enough to sustain his family.
Another problem we are facing in Armenia is the facilitation of information communication for the refugees: we got many organisations that offer different kind of assistance but it seems like refugees do not have access to the information and feel lost when they need help(healthcare, housing, employment, food/clothing, etc).
I am currently doing a desk research about how to improve the social services for the refugees here in Armenia. The aim is to mobilize all the organisations working with refugees to create an independent unit of trained social workers(including many Syrian-Armenians as it would provide them with a job and they are naturally motivated to help other refugees) and create an effective system to deal with the issues of Syrian refugees in Armenia.
Here's a recent article about the hardships many refugees face in Armenia and another one about why Armenian organisations should work together to ensure resiliency in the face of the Syrian migrant crisis.
Tentative agenda
Coming soon.
Coming soon.
Reading the references is not obligatory at all! But it may help participants to get into the flow and enjoy it more.
Feel free to suggest more!
Anna Kamay: " It's been a few months that I decided to settle back in my hometown Yerevan (my decision was inter alia affected by all the inspiring people/grassroot initiatives I (re)discovered this summer working for Edgeryders/FutureMakers project) ". Read more.
If you want to join the team sign up/sign in to edgeryders.eu and contact Anna directly or leave a comment below!
Tickets for this event do not cost money, but you need to complete some small tasks. It's easy!
If you don't already have one, sign up for an edgeryders account here: http://bit.ly/1SKCYtZ

Leave a comment below to introduce yourself and let us know you want to come!

Someone will say hello and suggest some small tasks you should complete for a ticket!

When you finish the tasks, we will send you the ticket

See you at the workshop
Date: 2016-02-27 11:30:00 - 2016-02-27 11:30:00, Asia/Yerevan Time.