With others, @alberto and I have been preparing for the evolution of Edgeryders Research Network.
I have prepared a preliminary roadmap to frame our strategies and leverage opportunities, and simply to get it all done.
This is an emergent document - the network is of course welcome to contribute comments and ideas.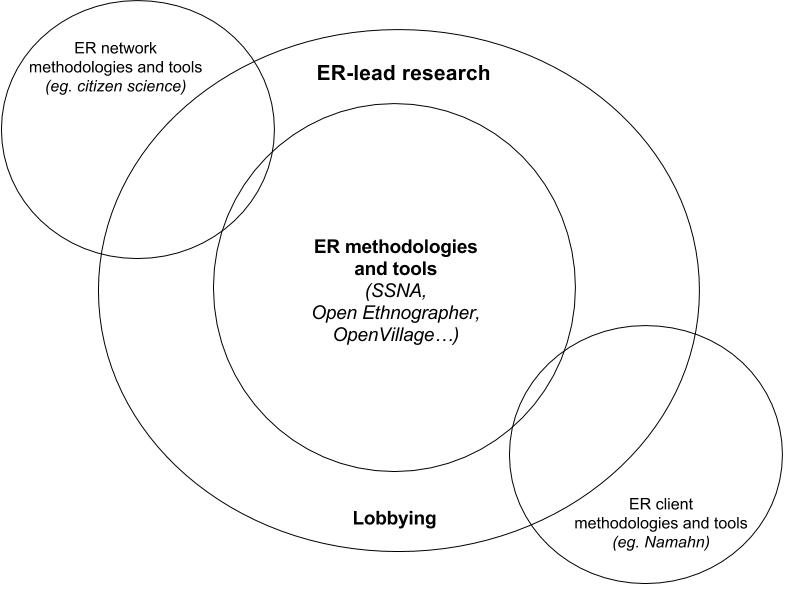 Social Semantic Network Analysis
Horizon2020
2018 proposals
We are a part of seven proposals across five work programmes this round, including:
Food security, sustainable agriculture and forestry, marine, maritime and inland water research and the bioeconomy
Connecting economic and environmental gains - the Circular Econonmy
Europe in a changing world – Inclusive, innovative and reflective societies
Science with and for Society and
Information and Communication Technologies
RUR-02-2018: Socio-economic impacts of digitisation of agriculture and rural areas - RIA
With Human Ecosystems Relazione
SUBMITTED first stage to two stage process
Edgeryders' work package contribution at €450,000.00

RUR-03-2018: Contracts for effective and lasting delivery of agri-environmental public goods - RIA
With Human Ecosystems Relazione
SUBMITTED first stage to two stage process
Edgeryders' contribution at €480,000.00

RUR-04-2018-2019: Analytical tools and models to support policies related to agriculture and food- RIA
With Human Ecosystems Relazione
SUBMITTED first stage to two stage process
Edgeryders' contribution at €400,000.00

CE-SC5-03-2018: Demonstrating systemic urban development for circular and regenerative cities- IA
With Fondazione Brodolini
SUBMITTED
Edgeryders' contribution at €350,000.00

GOVERNANCE-03-2018: Addressing populism and boosting civic and democratic engagement - RIA
With UCL
SUBMITTED
Edgeryders contribution at €605,000.00

TRANSFORMATIONS-06-2018: Inclusive and sustainable growth through cultural and creative industries and the arts
With Artshare
SUBMITTED
Edgeryders contribution at €500,000.00

SwafS-15 - RIA/ CSA - Exploring and supporting citizen science - RIA
Conceptual lead with The Lisbon Council as Coordinator
SUBMITTED
Edgeryders contribution at €525,000.00

CT-24-2018-2019: Next Generation Internet - An Open Internet Initiative - Technology Strategy & Policy CSA
With NESTA
DUE 17 April - drafting application
Edgeryders contribution at approx. €600,000.00
Worth considering for 2019
Would likely be an expanded model - eg. SSNA with community management
H2020-RUR-2018-2020: Rural Renaissance

Numerous topics to gauge - eg. DT-RUR-12-2018: ICT Innovation for agriculture – Digital Innovation Hubs for Agriculture
Suggest 2019 - application due to Feb closing date

DT-TRANSFORMATIONS-02-2018-2019-2020: Transformative impact of disruptive technologies in public services

R&I 3-4m/ 7m total
2018 and 2019 deadlines
Community management/OpenVillage
Open Ethnographer
SME instruments
Included in EIC pilot
See: SME guide for applicants (saved)
Phase 1 funding closes
03 May 2018
05 September 2018
Lobbying / "advisors"
DGCNCT
Gauge H2020→ programming Jan 2018
The Good Lobby
Recode partnership
Training
Prototype - OpenInsulin
European Innovation Council
Intelligence gathering / Contact/ meetings
Gauge H2020→ programming
European Group on Ethics in Science and New Technologies
Jim Dratwa gauge potential
ER network tools and methodologies
Avenues
H2020/ DGCNCT
European Innovation Council
European Social Fund?
Regional initiatives - eg. Ghent
Gauge further…
Potential
Thomas - OpenScience hardware
Spaghetti open data
Rachel - biohacking
Crosscheck platform for potential project leaders - eg. Shajara
Communa*
Yannick
Media
Client tools and methodologies
Namahn
Potential to incorporate SSNA as an add-on to their open-source system design licensing
MENA youth : their potential social impact foundation and learning program
Fondazione Giacomo Brodolini
Labour market, innovation and gender: UNDEF
Enda-Arabe
MEAL (Monitoring, Evaluation, Accountability and Learning) and social entrepreneur / youth leadership
Whitelabeling edgeryders.eu
TED / tenders
To gauge…
Events and conferences
Connected Smart Cities Conference 2018
Participant, Anique, 11 Jan 2018 Brussels
Ambition: connect with TRANSFORMATIONS project managers/ coordinators and potential consortia
Imagine the Urban Future (JPI Urban Europe)
Participant, Anique, 23 Jan 2018 Brussels
JPI Urban Europe with The EUROCITIES knowledge society forum (KSF) and the Green Digital Charter (GDC)
Ambition: connect with TRANSFORMATIONS project managers/ coordinators and potential consortia
INFO SESSION on NGI - ICT-24 and ICT-31
Participant and 1min presentation, Anique 31 Jan 2018 Lyon
Ambition: better understand NGI future directions and present ER as partner material
CAPSSI Connected Technologies for Social Good conference
Participant, Anique, 14-15 Feb 2018 Brussels
Ambition: connect with NGI/ Digital Single Market project managers/ coordinators and potential consortia
Salzberg Global Seminar
Presenter, Alberto, Feb 2018 Salzberg
Open Belgium Conference
Presenter Winnie, participant Anique, 13 March 2018 Louvain
International Society for Neglected Tropical Diseases Festival
Presenter, Anique, 27 March 2018 London
Africa OpenScience Hardware
Presenter and partner, Nadia and Anique, 13-15 April 2018 Khumasi
Ambition…
Digital Social Innovation Fair
Presenter and participant, Nadia and Anique, 6-7 June 2018 Rome
ER events
Bi-monthly learning sessions with guest speakers and meet&greets
Timeline and priority milestones
JAN 2018
Scoping/ direct contact / lobby for work packages to existing consortia
Build consortia for populism and innovation in cities
Submit to partner search
Review all relevant materials / applications on H2020
Gauge 2020→ programme lobbying
Connect via events
FEB 2018
Connect via events
Build and finalise consortia
GOVERNANCE and TRANSFORMATIONS work packages
Finalise ICT consortia
MAR 2018
Finalise GOVERNANCE and TRANSFORMATIONS applications
DUE 13 March: GOVERNANCE and TRANSFORMATIONS topics
Gauge 2020→ programme lobbying
ICT and FET applications
SME preparation
Learning session/ meet&greet TBD
APR 2018
ICT and FET applications
DUE: 17/18 April: ICT and FET topics
SME application
Review 2020→ programme lobbying
MAY 2018
DUE 3 May: SME Instrument Phase 1 application
European Innovation Council TBD
European Group on Ethics in Science and Innovation TBD
Review focus priorities
Learning session/ meet&greet TBD
JUNE 2018