These are notes from our community call on Coping with Loss of work. If you were there, feel free to press Edit below and make additions or changes. We focus on the new people in the conversation, so special thanks to @seh_notts for joining and sharing today.
@seh_notts is based in Nothingham, joined Edgeryders in 2014 when the unMonastery Matera adventure was on (!)
@Noemi: facilitates the calls. Sees Edgeryders conversations over the years become more organic and more focused on wellbeing, not just project making.
@MariaEuler: in Stockholm, in the country where they're not doing anything right now: 'we just follow the news of what others are doing. Some people stay in, but we also had neighbors downstairs having a party.'
Olivier @oliiive: teaches French to people who are not native speakers: 'It's nice that on a weekly basis I have a contact with people.'
@seh_notts worked at a UK University for 20 years, largely in IT and now in a role supporting teachers to use technologies.
Our team had to decide how we were going to respond immediately. Each Faculty came up with a teaching continuity plan, how they would continue, which platforms would be supported. Zoom was not used much. Lots of universities in the UK are Microsoft customers so a decision was made to use Microsoft Teams, as access is restricted only to the campus users so it is more private than Zoom. This concern about using Zoom proved to be a good one, given recent news stories about privacy issues with the platform.
What worked well/ not so well with the e-learning shift, and working as an educator online?
One of our senior staff already teaches a Distance Learning course online, and other colleagues had already contributed to MOOCs. Other than that, not many people appeared to be interested in the Edgeryder themes locally. '
At the start of this crisis teachers had been on strike in the UK nationwide for two weeks before. The crisis refocused everything, because many Higher Education Institutions have made recent financial announcements to lay people off ('furlough' them), if their roles were not considered essential at this time. Some disciplines (eg Arts and Humanities) feel more vulnerable in these circumstances. Furloughed staff are able to claim 80% of their wages from the Government but it is unclear how long this might be for or what the future might hold for all staff in the sector.
Challenges of eLearning and mental health
The main challenge with eLearning is going to be to enable students to continue to complete assessments. Many staff have experienced the mental impact of having to move to new and unfamiliar ways of working. When we asked about how students are doing, @seh_notts said:
I think the mental impact on students is huge and is not always fully appreciated by Higher Education Institutions. In the UK there is a real epidemic of anxiety and mental health issues among youngsters [in general]. Is this similar in other countries?
From around the Edgeryders network
In the past we have had students at UDK in Berlin speaking openly about mental health. But in that case, the connection was between creative focus and mental health, not so much the particularities of this age group.
@pauline wrote this heartfelt story: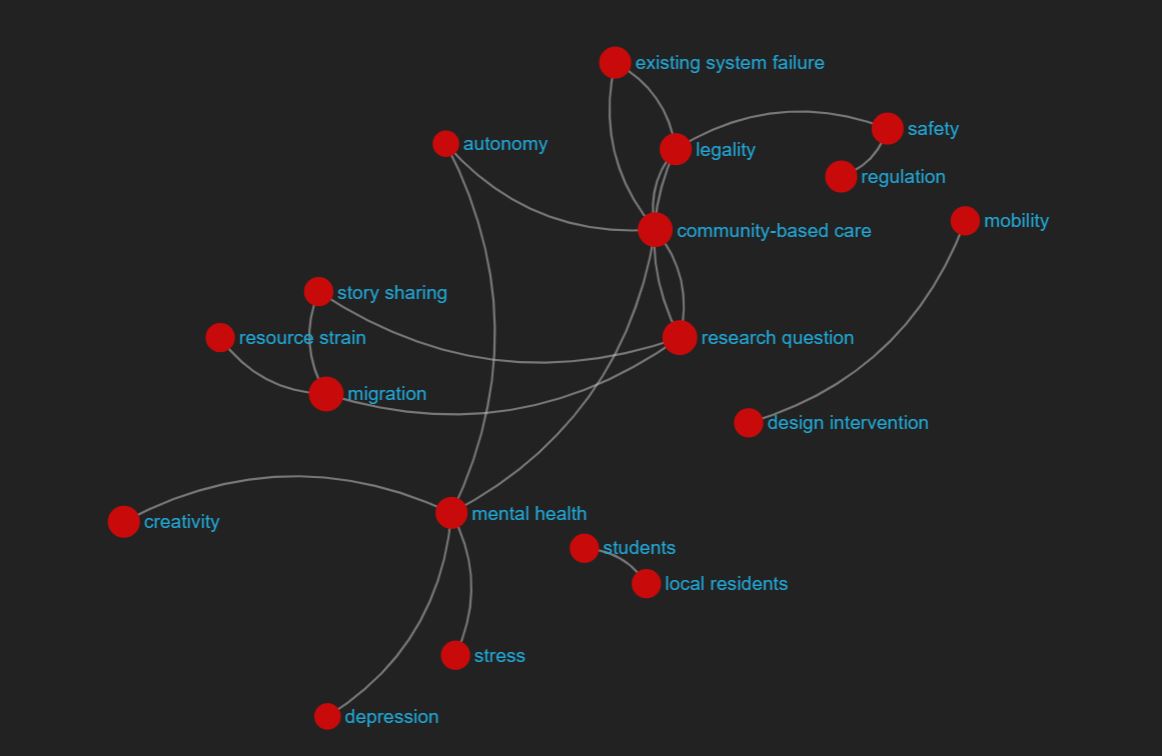 In a discussion problematising other similar conversations, our ethnographer was analysing the stories and commenting on the co-occurence of issues like mental health, art, and trauma: I've been seeing an expansion of the discussion on mental health— not just focused on refugee issues, but also mental health issues across populations. Youth come up frequently, as do feelings of hopelessness in the face of the current labour market. There has been a repetitive feeling of disconnect between one's own dreams and desires and the way cultural and social norms, as well as existing labour and $ structures, require one to live and attribute value to activities (source).
What is your experience with this issue? Is your teaching and learning life disrupted?
We are listening and will continue to mobilize the network across many countries for honest advice.
We are happy to meet you 'live' as well: next Tuesday for another one of these conversations.
Register here: http://bit.ly/coronawork <3