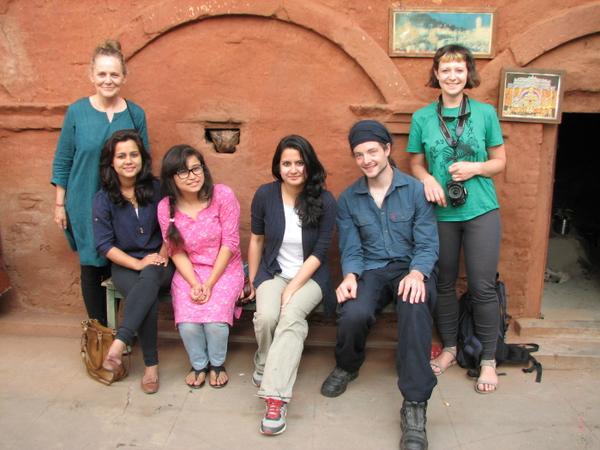 The Edgeryders team in Nepal! #Futuremakers
The main news from us is that the work of getting #LOTE5 off the ground is now up and running. If you want to join the core team write to community@edgeryders.eu or leave a comment here. Below is a summary of what else is happening right now in Edgeryders and how you can participate in projects or community efforts.
Below is a summary of what's happening right now in Edgeryders and how you can be a part of projects or community efforts. If you wish to meet community members in person join the Weekly Community call, every Thursday (today) 11 am cet. Everyone is welcome and joining is easy: just add edgeryders as a contact on skype and we will call you in when we start.
Activities you can get involved in
1. Meet and collaborate with peers in Nepal! Come say hello to Dipti, Meena, Anubhuti and explore how you can involved in different initiatives from mapping efforts to hackathons here.
2. Join the Case Studies Adventures! We're compiling a list of interesting and relatively unknown projects to learn from and maybe even visit in Armenia, Belarus, Egypt, Georgia, Morocco, Nepal and the Ukraine. Add your contribution here!
3. Join the Edgeryders Cultural team! After the successes of Matera, Edgeryders is working with candidate cities to European Capital of Culture. We're building an International Cultural Team, who's in? https://edgeryders.eu/en/node/4596
Suggested reading for Edgeryders
1. Bucharest, Bucharest, Burcharest- "From start-up hubs, leadership communities and bootstrapped social enterprises to neighbourhood associations, autonomous cultural spaces and environmental protests, Bucharest is definitely happening. I'm not saying this as a nationalist (cosmopolitanism is where it's at) nor as an entirely born-and-raised Romanian. Returning to native Bucharest as a fresh graduate after a 14-year stay in hectic Venezuela meant having to discover this city and its communities almost as a foreigner would. Lost in space and cultural references I didn't get, in a mix of awe, anxiety and sometimes disappointment" - Read Alex Stef on Bucharest here.
2. Going for a day trip in rural Nepal- "A week ago, me and Matthias went for a day-long trip to Dhading district with a small mission. It's been a great lesson for us to see how the country looks like from outside-of-the-capital perspective." - Read Natalia at: https://edgeryders.eu/en/future-makers-nepal/trip-to-dhading-and-first-edgeryders-meetup
3. The Lote4 visual report on Stewardship is out! We're making a case that networked communities as credible candidates for stewarding large assets. Feel free to use the report for your community projects, it's all licensed
Your news and calls for collaboration
If you have news about your work you would like to share, add them in the Community News Calendar here or in a comment below. We will include them in the next newsletter.