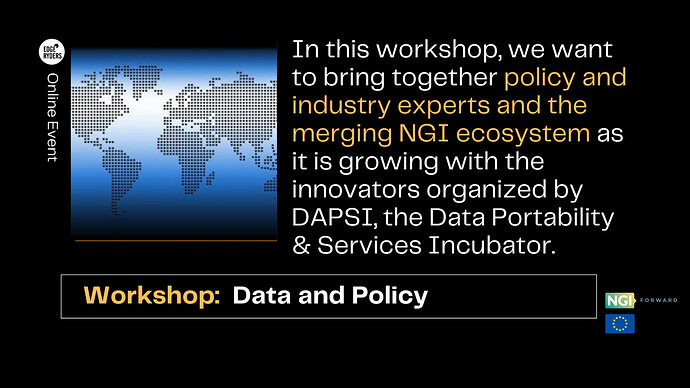 Seminar and workshops on DATA AND POLICY, January 20th,
11:00- 12:00 CET Seminar Data and Policy
Speakers:
Eva Kaili MEP Group of the Progressive Alliance of Socialists and Democrats in the European Parliame

@EvaKaili

Anja Bechmann Professor & Director

@AUDATALAB




@anjabechmann

Jaya Klara Brekke founding member of the Magma Collective, a planetary think-and-do tank, currently developing peer-to-peer cloud system, CoBox


@jayapapaya

Irene Hernández, Founder & CEO at GATACA | Digital Identities | Blockchain researcher, Interop WG ESSIF

@irenehdezg

First respondent: Primavera De Filippi
Primavera De Filippi is a permanent researcher at the National Center of Scientific Research (CNRS) in Paris, a faculty associate at the Berkman Klein Center for Internet & Society at Harvard University, and a Visiting Fellow at the Robert Schuman Centre for Advanced Studies at the European University Institute.

@yaoeo

Moderators: Mantalena Kaili (ELONTECH) and Gaëlle Le Gars (NGI Forward WP4)
14:00- 15:30 CET: Workshops (online):
Data and Methods. Kick off Alberto Cottica, edgeryders.eu.
Data and Policy. Kick off by Theo Veltman, City of Amsterdam.
Data portability. Kick off by Trace Labs (DAPSI ecosystem)
Details:
13:00 14:00 CET Workshop DATA/POLICY Data and Methods.
Kick off Alberto Cottica, edgeryders.eu.
15:00 16:00 CET Workshop DATA/POLICY Data and Policy
Kick off Rob van Kranenburg, moderation Gaëlle Le Gars

17:00 18:00 CET Workshop DATA/POLICY Data portability
Kick off by Trace Labs, moderation. Erik Mannens (IMEC)

Do register early as we have a limited seating in the (online) workshops.
https://app.livestorm.co/made-group/dialogues-on-data-and-policy-the-40-the-identity-and-the-privacy-issue
Executive Vice-President for A Europe Fit for the Digital Age, Margrethe Vestager, said: "You don't have to share all data. But if you do and data is sensitive you should be able to do in a manner where data can be trusted and protected. We want to give business and citizens the tools to stay in control of data. And to build trust that data is handled in line with European values and fundamental rights."
It is clear that there is an urgency for an alternative European model to data handling practice of major tech platforms, and pave the way for sectoral European data spaces to benefit society, citizens and companies.
We invite experts to give their recommendations for NGI. Two EU funded H2020 projects in this domain join this event NGI FORWARD and DAPSI. The expected outcome is to contribute to the next generation EU research funding, a better understanding and cohesive EU efforts to submit innovative ideas for open calls.
We need your input! And we will take it very seriously. Go here to contribute your ideas and questions: https://tell.edgeryders.eu/15164