Here is a workshop for both Edgeryders and interested people of Matera, upcycling used textiles by printing a logo on it. This works very well with ones favorite T-shirt, but can also be done on bags, which you make out of old bedsheets, on skirts and even on trousers.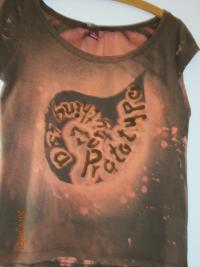 Everybody can do it, a child of five years with a prepared stencil as well as an artist, who might create her own stencil before.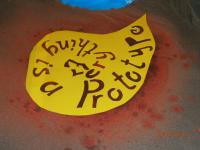 If it is done on dark colours, you only need chlorate bleach.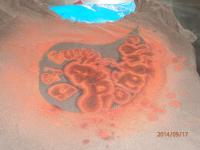 On light colours, we will use special washable paint. Plastic sheet for the stencils can be something used before or leftover material of for example building a garden pond.
In that way even moneyless living people can have their gadget and we try one sustainable way of getting what we want.
The workshop will be scheduled for two hours for those who want to experience the whole process from cutting a stencil up to the finished "print". People who only wish to have a shirt or bag with an LOTE 4 logo can just drop in, do their job using a prepared stencil and leave again.
Mind: The items have to be washed and dried after the process, so that you cannot have them before the day after the session.
Date: 2014-10-25 13:30:00 - 2014-10-25 13:30:00, Europe/Brussels Time.