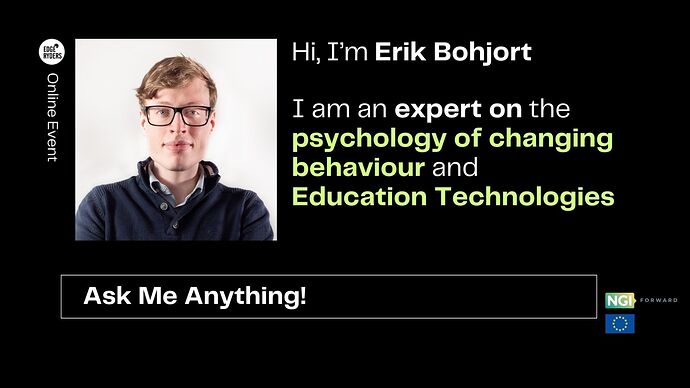 Coming from the theoretical standpoint of psychology and cognitive behavioural therapy I am always curious to explore how to apply and integrate my knowledge in new areas through collaboration.
Two years ago I had the pleasure of doing exactly this within a fin- and ed-tech startup working with financial education for children. This allowed me to start navigating the landscape of how developmental psychology, technology and education intersect.
Since then I have been involved in research as well as product and service development related to the question of "How we make change in the way people behave?".
Recently I have joined one of the first units in Sweden working with Behavioural Insights (yes this includes nudges) where I am currently involved in projects bridging the gap between digital and analogue behaviours, sustainability transformations, innovation leadership and e-learning.
Privately I have interests within the areas of improv theatre and climbing, I am a former martial artist and e-sporter and since the start of the pandemic, I am trying to learn how to lose a little bit less in chess.
Join me and others this Wednesday (9/12) at 18:30 CET to AMA about behaviour, psychology and tech!
What is an AMA and how does it work?
AMA, or Ask Me Anything, is an interviewing format popularised via Reddit. In short, you ask me questions, and I answer them live for an hour.
How does it work?
Anyone is welcome to post questions/comments below. On Wednesday, I'll come back to this thread to start answering questions I find interesting. I will do my best to reply to as many questions as possible, but please note that not all questions/comments will be addressed.
Who can join?
Anyone! As the conversations get going during the hour, you will see multiple threads naturally emerging. There is an open invitation for everyone to contribute–please feel free to reach out to other community members, either on the thread or via DM, to continue the discussion!
Register here to get a reminder and the link resend an hour before the event: https://tell.edgeryders.eu/14917