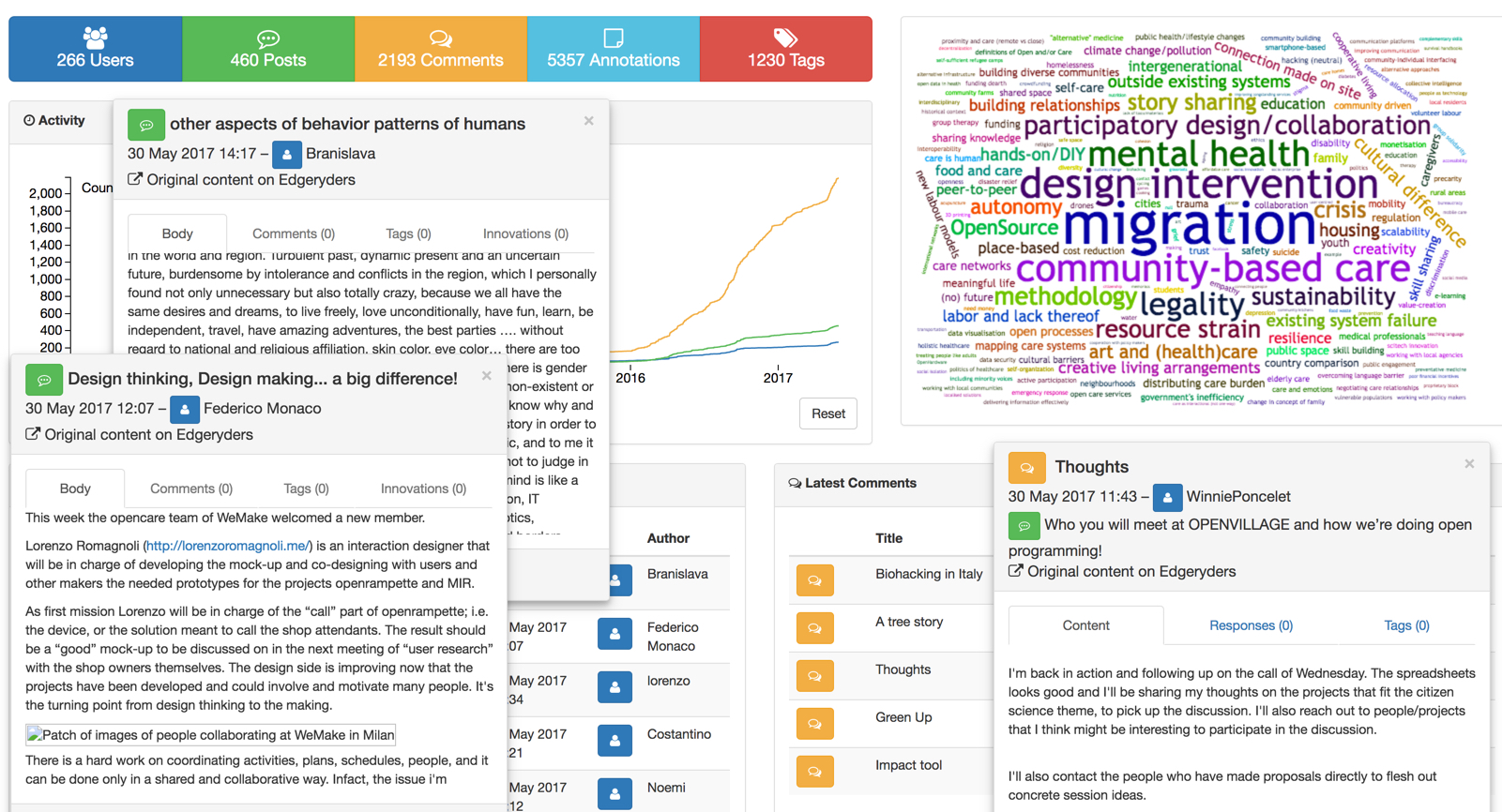 See the excellent and energetic introduction for the opencare MoN4 – it is still relevant (and this one builds on it)
When and where
June 27th, 9am - 4pm at LaBRI, Université de Bordeaux. More details on logistics here.
Why
To pursue our effort to understand how care networks innovate. This MoN6 edition builds on past editions and more particularly on MoN4 and MoN 5 whose output is documented here.
What
We'll be looking again at the two sides of collective intelligence: semantics and interactions.
How
We'll be looking at data taken from the edgeryders.eu portal and gathering online exchanges around "open" care. We also plan to look at different data collected from social medias.
Who else should come
Anyone interested in doing (even learning) network analytics, on our or other (open care related) data. There'll be a group of people from our research project, and others.
Agenda and challenges
We plan to run two tracks:
Identifying the specifics of the opencare online conversation -- as opposed to actions taken by individuals on a social media platform, where what people have in common is that they happened to be posting on platform during a certain period of time with no real social interaction.
Playing with text content of messages versus ethnographic tags: what can we learn?
MoN is also an occasion for us to test and improve tech solutions we already have in our hands.
Tentative schedule
To be announced, but in two words:
am - brainstorm first, questions emerge, crunch data, see what can be done
am/pm - just do it, iterate and refine with experts commenting on potential answers/solutions
pm - report back to the whole group
pm - prepare publication (blog post, github wiki, premise of a scientific paper?, etc.)
Who is facilitating
Some of us potentially will lead one of the two tracks
A network scientist: Guy Melançon, University of Bordeaux, FR
Three ethnographers: Amelia Hassoun (Oxford Internet Institute, UK), Anders Munk (University of Aalborg, DK), Federico Monaco (University of Parma)
An economist: Alberto Cottica, Edgeryders, Tallin, EE
We also have a number of additional contributors and "data crunchers" (if names are missing please add or send a note):
Noemi Salantiu, community manager and network-philantropist, Edgeryders, EE
Raquel Ureña, computer scientists, expert in topic modeling approaches, University of Granada, ES (EC Marie-Curie fellow, research visitor at UBx)
Jason Vallet, computer scientists (soft dev and PhD) and main architect and developer of the GraphRyder platform, University of Bordeaux, FR
Bruno Pinaud, computer scientists and expert in Visual Analytics, University of Bordeaux, FR
Antoine Laumond, computer scientists (PhD) and expert in context-based network exploration, University of Bordeaux, FR
University of Bordeaux interns

Norbert Féron, first and early developer of the GraphRyder framework
Adrien Dufraux, Tulip expert and colleague of Benjamin Renoust (Detangler designer and developer)
Clarisse Sauvage, working on machine learning models applied to text (wine tasting notes)
Gautier Laisné, working on data analytics and link predicion approaches
How to prepare
A simple, yet useful, way to prepare is to have a look at:
the conversation on edgeryders.eu