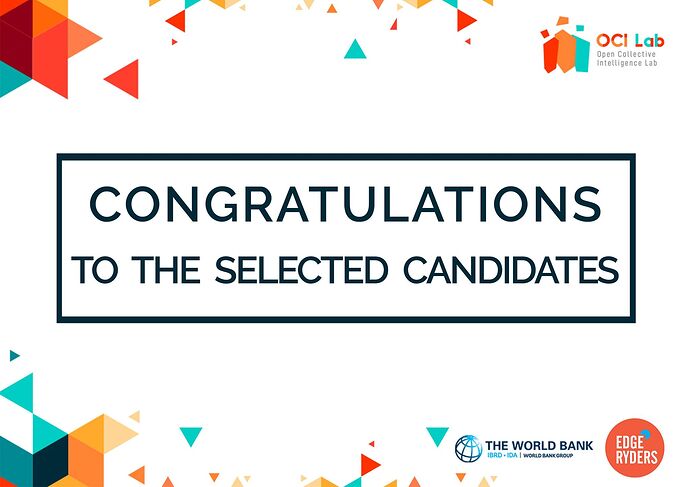 Congratulations to the selected candidates for the Open Collective
Intelligence Lab Program 2019 from Tunisia, Morocco and Egypt!
We will shortly announce the final list including candidates from Jordan and
Lebanon
The projects selected are:
1 – Leafs - Tunisia
Led by Ahmed Khemiri & Malek Bouzidi
A mobile application supported by artificial intelligence (rewarding & trading)
aiming to raise awareness around the environment
2 – COLEX - Egypt
Led by Mohamed Hassan & Saher El Amir
Biogas mobile units to produce renewable energy using organic domestic
wastes
3 – KENZIMOR - Morocco
Led by @jihadiss
A digital marketplace, a safe, easy and quick platform, for artisanal products
of Moroccan cooperatives that will contribute in improving life quality of
rurals.
4 – Diyafa - Morocco
Led by @HIBA
Social event agency aiming to promote rural ecotourism and Morrocan
culture.
5 - Didi_Asks - Social Game - Egypt
Led by Hadeer Ghareeb
A multiplayer card game that aims to enhance communication
6 – The Identity App – Tunisia
Led by Salaheddine Ogontayo
Identity is an App that creates a space of "High Quality filtered feeds"
matching the user preferences.
7 - AI mental healthcare – Tunisia
Led by Taha Yassine Ayari
AI Mental Healthcare is an App based on artificial intelligence to predict the
alzheimer's disease.
8 – Spellit – Tunisia
Led by Hsan Haddar
Spellit is a card game that works on enhancing children's reading skills and
detecting dyslexia.
9 – Alphawomen – Morocco
Led by Khadija Ouabdelmoumene
Alphawomen will develop and sell training packages on Feminin Leadership
and women's rights
10 – Zed Tunisia – Tunisia
Led by Yasser Machat
Zed Tunisia is an initiative aiming to create a network of youth content
creators that will enhance the digital visibility of 4 regions in the country
11 – PaillEco – Tunisia
Led by Mohssen Mahdaoui
A new product: straws and cups will be manufactured from food ingredients;
A consumable and biodegradable ingredient that will be composed of 100%
healthy dietary fiber.
12 - Data science academy to solve social problems – Tunisia
Led by Sirine Bousslema
A Data Science Academy that allows the trainees to work on real-life social challenges faced by the NGOs and gain experiences working within a community mentored by experts in the Data Science field.
13 - Temple - Lebanon
Led By @MostafaBaydoun
A creative platform specialized in mobilizing youth and engaging them in social activities.
14- Zellij Invent - Morocco
Led by @saif.eddine.laalej
A green tech solution that sort and transforms plastic waste into eco-friendly and sustainable paving blocks. Zellij prioritizes partnerships with local artisans to preserve the age-old heritage of Moroccan architecture and to foster a responsible business that drives social and environmental progress.
We are delighted to support such creative projects!
PS: Please check out our FAQ don't see an answer for your question feel free to comment bellow