This conversation is Part II of the conversation I had with Milan Rai. To read Part I, please click here.
After the overwhelming response from supporters and volunteers, it did not take Milan and his team long to become more organized, and coordinate. They began to cover more grounds and soon, traveled to other affected areas to build temporary toilets.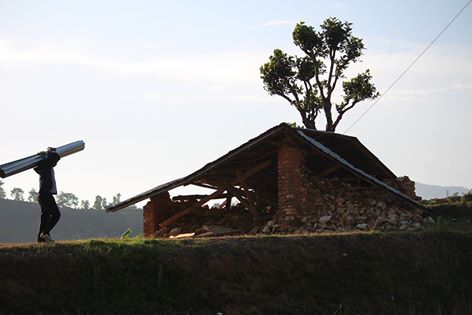 Growing In Team and Efforts
"Our team started to function autonomously and we welcomed people willing to participate in it. We had started with 4000 rupees but now, we are able to supply toilet pans in hundreds to various affected areas. Even if all of us cannot go to all places, we send one of our volunteers where s/he trains the people to build toilets and then, move on to another place."
"Dhading, Sindhuplachowk, Helambu, Dolakha… and then we started to distribute mosquito nets as well. We got this idea because one of the volunteers complained about mosquito bites while traveling in relief work, so we thought if we are suffering so much, so must the local people also. Everything we did, we did it out of utter compassion.
"It has been so many weeks but still our volunteers are working with such motivation, without any rest."
Longer Term Planning
"Relief efforts have started to shift to building temporary shelters. Along with it, one will have to start thinking about permanent toilets. Monsoon is soon approaching so we are actually working on a portable toilet design. We tried with bamboo, which is cheap but it takes longer time and is more labor-intensive. We are also researching on what materials can be used for this.
"Our volunteers are all college going students so once their colleges start, they will have to go back to studying. I will also go back to my own little world. But until we have volunteers with us, we will continue to do our work no matter if it is small scale, but we will do it properly.
"This can also be implemented by other teams. I can generate funds for such initiatives."
Learning from Volunteers and Villagers
"I learnt a lot from my volunteers. After Bhaktapur, I did not even have to go to the field. I would just go, pose for a photo, and post it on social media. Take all the credit and compliments! (laughs) But the volunteers never got angry. I do not know why. I mean, they were never discouraged. I did not have to do anything. I worked a little bit in Dhading, and almost fainted.
"Because of them, I got so much extra time. So I started visiting camps. People had so many questions, "Why did this have to happen to us? Such fate!" and I would have no answers for them. While they cried, I would just sit by their side. I started to listen to them. This gave them so much encouragement. From outside, we judged people living in camps were all in trauma but they are much stronger than us. People from here go there with two packets of Wai Wai (instant noodles) and they will feed us locally bred chicken (smiles).
"Of course, this was a practice of giving. Yet, whenever someone asks if they can take their photos, they haven't forgotten to smile."
"I see so much of strength in their vulnerability."
Toys in Tudikhel
"In next phase, I went to Tudikhel in the Santa Claus costume with a lot of toys. Something happened there that I will never be able to forget. I met an 8 years old child who got a plastic house toy. He said, "What if my house got destroyed, I have this small house." He started imagining his family in that house. I told his parents that your child's imagination is broader than your harsh reality so nurture this. The parents were inspired by their child."
"So, I just went about in the camps giving people strength."
Locally Sensible and Environmentally Friendly Initiatives
"I never went in any relief effort work where you take packets of junk food and mineral bottles of water. I always requested others to not send these things. While working in sustainability and reconstruction, we cannot continue giving unhealthy food. We are making our villagers dependent and unhealthy.
"Initially, it was ok – immediately, whatever was required was done. But now, it should not be that case. So, with our temporary toilet as well, wherever we go, we promote vegetable gardens. Imagine, rice and tomato chutney – it is so delicious! There is a big difference in waiting in the line to eat instant noodles and eating food that is locally grown. This can also be an alternative therapy since it distracts one's mind from the devastation and also brings one closer to nature."
"So I am also meeting experts to figure out about seeds, condition, and such. Our team had gone to Nuwakot and did an assessment. We are collecting pumpkin seeds, and tomato seeds. My favorite thing is beside every toilet, a banana tree! It provides shade from heat, imagine elephants and monkeys (laughs), and shade from rain as well. It also has so much nutritious values."
Need for a Positive Social Disaster
"I feel like there is a need for a social disaster through a bigger earthquake where no one will die and no one's houses will crumble down but people's foundations based on jealousy, disharmony, and greed will crumble down. Even today, when we go to build toilets, there are people who refused to let us temporarily use their land to build toilets. Those barriers need to be broken down.
"But there are other kinds of people as well, where landlords have waived rent, where people have provided space for people to live in. They have realized. But many have yet to realize and grasp this."
Look Around With Wider Heart
"Actually, nothing has happened. Kathmandu had to suffer perhaps only 5%. Villages have flattened because the houses were really old. We were not prepared at all. When the whole world is looking at us and sending us relief and prayers, at this exact moment, the world is suffering from so many other difficulties. So this prime time is not only about Nepal. Nepal became a space where collective prayer was possible and at this time, we should pray collectively and act wisely. We should heal the entire planet and not just Nepal. So, I never feel sad about this happening to Nepal. From the perspective of lives lost, it is a big devastation but from another side, it is just a reminder to shift our awareness.
"So, I was about to leave and go away. But emails started to come, 'Milan dai, you have made so much impact', 'Milan dai, we need this, or that' so I realized, I have yet to do something a bit more. If one phone call can provide a wheelchair to a spinal injury patient, or a Facebook status update can build someone's house, that is a blessing.
"I came to realize that I have not really done much. Now, I will start doing something! People say, give 100% but there is need for 1000%.
"Everyone can do something."
Changing the System
"If we blame government, we are learning to fail again. They were never transparent and they did not act responsibly from the beginning. So they never gave us the space to trust them. So, rather than supporting the same system, it is possible to change the system – at this hour. I do not engage in blaming and complaining about the government. I lose so much time and energy if I do that. I think about these things a lot.
"A lot of different organizations, and individuals are doing a lot, putting beside their egos as well. Many people may have put their interest forward but that is also ok.
"After our work, a lot of organizations came to work with but they wanted to put their banners. I told them they should be ashamed of such thing and that I do not care what their banners or the logos on their t-shirts say. With the time and money spent on printing the banner, one person's life can be saved.
"It is not about who did what, but with what intention we did it. But I still feel like we haven't really done much!"
Changing the Attitude
"At one point, there were a group of people who started this whole #gobackhomeindianmedia backlash thing. At that same time, an Indian pilot wrote to me saying he was amazed by our team work and wanted to help, not just send money but be there with you guys. So, I thought if I were to host him, this will be a great message. He came, and with the money that he had collected with his family and friends, he was able to help provide food, sanitary items, and toilets to around 200-300 households in Sindhupalchowk."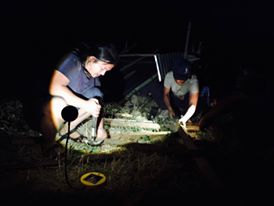 "I posted this. People then started to say, thank you. There is no Indian, or Chinese, or Americans, or Muslims, but only human beings. There is a big mine of generosity. This time, a lot of layers got peeled. I never said 'Indian media' but 'irresponsible media'. So, if we are to shift our perspective… I am always hopeful."
Even after the questions in my checklist ran out, the conversation did not. We continued to talk for a while. Milan joked about how when he found out other people were building toilets where they were planning to, he got angry – we had a big laugh about this. We talked about the enthusiasm that we feel in the volunteers, possibilities of a community for such driven people who will remain separate yet combined in efforts, and I will leave you with a statement that Milan told me,
"Compassion should not only be there when the earth shakes, but also when the earth spins."
Photo credits: Milan Rai's Facebook Page (Used with Permission). You can browse through more of these here.