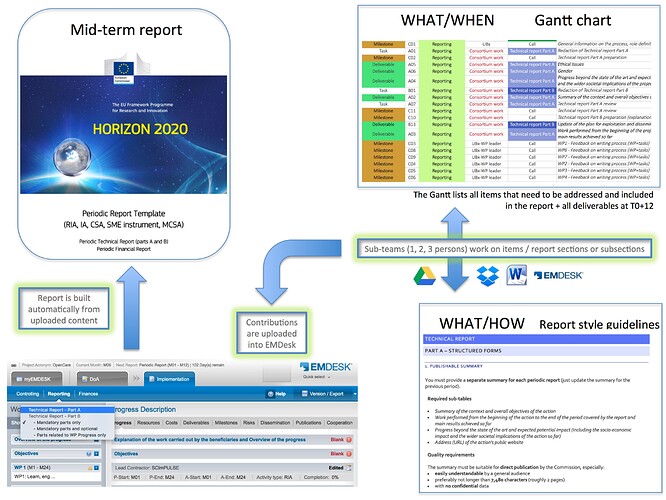 A Gantt chart made available on EMDesk (XLS sheet periodic_report_Gantt file) lists all items that need to be prepared, documented and or written for the mid-term report.
All deliverables due by T0+12
Sections of the technical document to report on the work done (mainly the WPs)
All financial information
Sub-teams (1, 2 or 3 people not necessarily from the same organization) will be assigned portions of the report they must prepare. Guidelines on format and expected content is avaiilable on EMDesk (PDF Reporting_Redaction guidelines file).
Some will prefer writing with MS Word and exchange their doc by email, or put it on a DropBox.
Some will prefer collaborative writing on GDocs or equivalent.
Some will prefer directly writing on EMDesk with the embedded editor (just like edgeryders' editor for posts).
Some will prefer writing plain text with emacs, vi or TextEdit.
All content will ultimately be uploaded on EMDesk – uploading a MS Word doc works fine; copying-pasting content is just as fine.
The report itself will be generated by EMDesk by pushing a button, avoiding to deal with document formatting, labeling, numbering, etc.
---
We will hold weekly call to guide you through the whole process – starting next Monday September 26 !!!
(This is a follow up of a post initiated by Alberto.)