As 2013 is coming to an end, we have a community survey up and running: you, me and everyone you know is invited to help shape a GRAND VISION. This is an overview of the 27 pieces of thoughtful input we have so far, hopefully it helps put things into perspective for those having contributed already and equally, inspire others to jump on board and fill in their thoughts. If you're up for hacking the responses yourself, go here.
What do Edgeryders think we should achieve or become, all together?
The strongest and most frequent visionary ideas seem to be, in my reading, those:
inward looking, stating the value of our coming and working together: A vision of Edgeryders making it possible for all of us struggling to be inspired, collaborate and get compensated for our skill and passion.

"Edgeryders for me can, should and is becoming a New Work Order for the current and future generations. I would like this platform to be able to derive economic, cultural and political freedom for its participants, stakeholders and global community as a whole."

"I want my effort to become part of a critical mass and to see in my life proclaimed the obsolescence of previous methods."

 outward looking, stating our relationship with the world: A vision of Edgeryders as solving the true problems our Big society is faced with, and in so doing leveraging the establishment to acknowledge it as the new reality.

"I'd like Edgeryders to be the first living example of an open consultancy where members collaborate with one another on meaningful projects that create great socio-economical-cultural and political impact. The open consultancy is transparent, flexible and human."

"Becoming a strong and efficient tool for "leveraging the establishment" for our own projects. Those young now will take over the continent some day in the future anyway, so it is only fair for the current establishment to gradually cede control and grant freedom and perspective. And establishment includes the policy space, big business, established NGOs and what have you."

"To help show that across Europe, we are already creating new ways of making a living, it's up to the market to catch up, not the other way around."
How can we get there?
An overwhelming majority of Edgeryders taking up the survey agreed to lend one day per year or more to support the infrastructure and collaborate with others on specific themes (choose from list). I think our major asset is having learned to facilitate and encourage coordination to make things happen, relying only on ourselves. We need to keep the bar up high and especially to get better at it, and for that some actionables mentioned are very useful:
create physical Edgeryders centers across Europe, to better connect with each other if in proximity
build together a Wikipedia of Learning Materials and focus on learning pathways
grow our portofolio of projects, eg to increase our legitimacy as open consultancy: "Retain the 'do-ocracy' ethos of actions and self-responsibility but have some 'gateway' encouragement programme to help people make first steps with project proposals"
set up "how to" accessible guides for project making - I would also like Edgeryders to present more about their projects (not accomplishments but efforts) more directly, [so it] doesn't have a "cool name. what is it?" feel. Write a case study of yourselves. Make a roving unmonastery that can travel with you.

do collaborative projects with other orgs and communities and build on each other's reputation; 

scale if it scales

communicate more and better (and in "PLAIN ENGLISH" - no jargon or insider terminology). This last one is among my personal resolutions having read someone stating 

I am an edgeryder since spring but i wasnt very well informed about the last meeting (re:LOTE). Moreover, i wanted so much to help but i didnt know how i could help.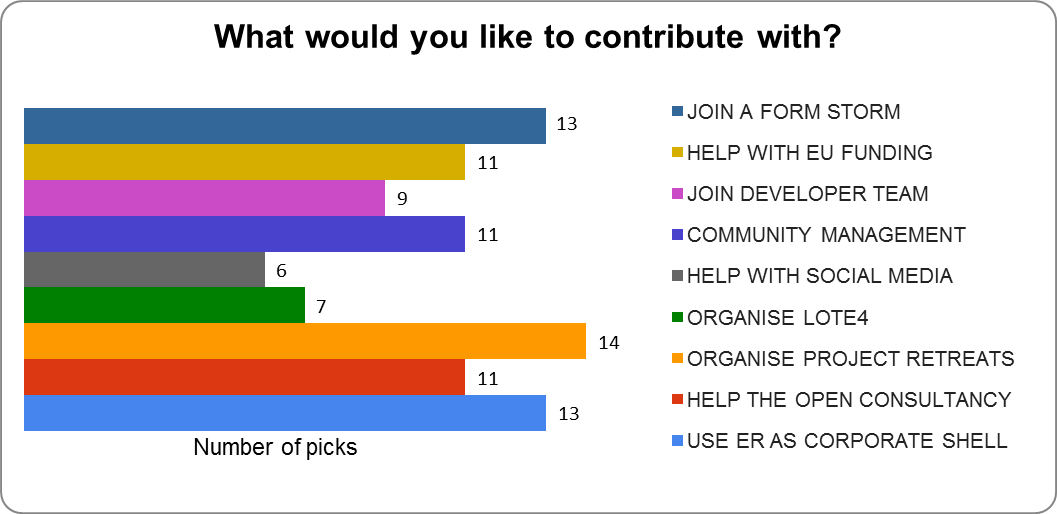 ​
Here is where all the responses to the survey are stored and a link to full size popplet graph. I invite you to have a go at the data, it's all very inspiring and mine is only a birds eye view. Also paging those whose input is so valuable already to see what they think: [pacheca], [Vidrij Da], [jonocosa], [Ilaria], [Tiago], [Matthias], [Hazzard], [ThomasVisCom], [phm], [fredd], [mishek]  …
So, who else wants to see Edgeryders achieve great things?? There's still time to share your thoughts on our future.