Hello everyone,
This is community management central

to let you know that theme and session proposals are now being read and shared with the OpenCare partners and SCIMPulse organisation which is funding the Fellowship program (ping @markomanka from the team).
More importantly, the review process is a collective validation process in which community members step up to add to each other's questions, ideas, critical thinking. Here's how: we will be circulating the posts with the broader Internet and edgeryders network in order to collect feedback to the materials posted and give ourselves a chance to reflect deeper on how community care in each respective field happens. Community validation means we make sense of existing knowledge and build new knowledge. Whether it is because you want to solve local problems or expand access to services, keep governments accountable, avoid expensive mistakes or learn new things about the world in which you live, knowledge is power.
Help shine a light on each initiative and connect it with the people, knowledge skills, and resources to take it to the next level!
The social media team now managed by the lovely @Owen will be sharing each story on various channels over these next weeks. Please sign up for the #CountOnMe regular digest where we each commit to tweet or share the beautiful posts with our own networks. This guarantees a high quality program for OpenVillage Festival for everyone.
While we are digging deeper, we're also allowing for greater diversity by accepting Fellowships proposals until end of May.
Hope this works for you,
@Damiano | @Nabeel_p | @Gehan | @Alex_Levene | @WinniePoncelet | @Mariekebelle | @Natalia_Skoczylas | @Luke_Devlin | @steelweaver | @Yannick | @Shajara @Matteo | @burglarv | @powermakesussick | @Jack_Dushica and everyone who has been in touch one way or the other!
Waving from Brussels,
Noemi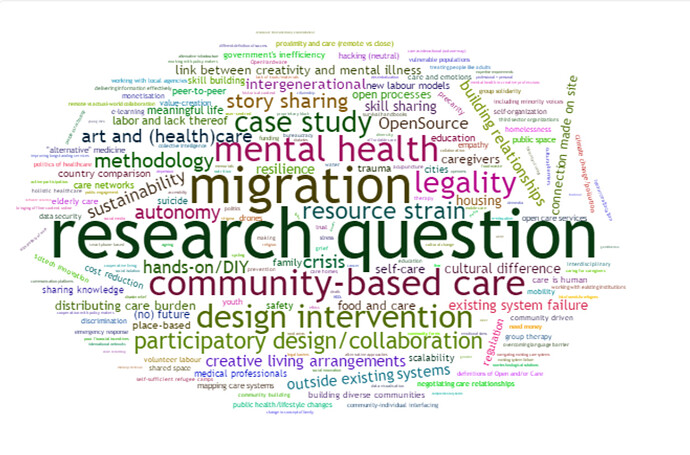 This is the cloud of codes created by edgeryders ethnographers based on opencare conversations so far. Learn more.