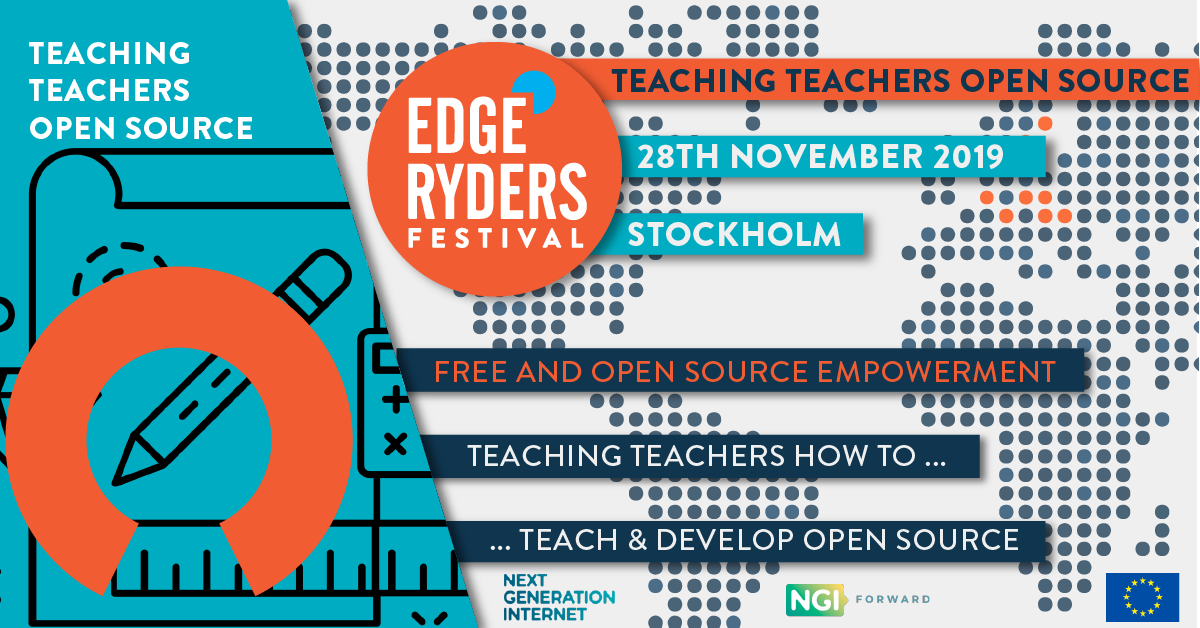 https://festival.edgeryders.eu/
28:th November - 10:00 - 17:00+
Södra Hamnvägen 9 (Hus Blivande, Directions here)
Lunch included.
Background and motivation to the workshop
Internet, computers and programming is introduced from birth in our children's lives. The current generation is the first, that never will have experienced a world without internet.
As coming generations enter the educational system, they are now introduced to tools, thoughts and concepts derived from the digital world. Today, most of them are proprietary - opposite to free and open source.
What happens to knowledge in our future digital world if proprietary world views on computers, internet and programming are left unchallenged?
Free and open source values, such as transparency, collaboration, freedom and empowerment - are already cornerstones in our educational systems. So why don't we apply them when it comes to teaching computers?
The hypothesis is that teachers simply don't know enough of how free and open source really is central to knowledge itself. I believe we need to educate teachers and leaders in schools/academia in this area. That is how we change the game for the benefit of future generations of internet citizens.
This workshop aims to help to bring together actors in the educational systems with those from the core free and open source landscape. YOU are invited! Together we'll try to find ways to influence the educational system towards open source values. We stage the workshop to learn from joint experiences and develop concrete ways to reach the education system.
What will you experience?
Learn about the cornerstones of Free & Open Source and how those are fundamental to learning anything in a digital world.
Collaborate on how to reach out to teachers with this message as one important group to win.
Have a great time shaping the next generation internet citizens.
---
Frequently asked questions
How do I get an invitation/ticket to this workshop?
Use this form which will take you through the registration process: https://register.edgeryders.eu/
How is this event being organised?
This event, and the festival it is part of, is coordinated on the edgeryders platform (where you are now) and co-curated through a series of community video calls. We have allocated a collaboratively managed budget for the festival and operate on a solidarity basis. Participants who need some financial support to organise or be able to participate in the festival are eligible provided they contribute towards making it a meaningful and generative experience for all - in the run up to, during and/or after the event. If you would like to join us but are unsure as to how to contribute, don't worry. Create an edgeryders account, then tell us a bit about yourself here and we will guide you along from there.
How is this all financed?
This event is part of the NGI Forward project Generation Internet (NGI) initiative, launched by the European Commission in the autumn of 2016. It has received funding from the European Union's Horizon 2020 research and innovation programme under grant agreement No. 825652 from 2019-2021. You can learn more about the initiative and our involvement in it at https://ngi.edgeryders.eu
Does getting involved mean I endorse the funders views or actions?
No. What you are doing is contributing to an open consultation on the topic of how to build a next generation of internet infrastructure, technologies, business models etc that promotes the wellbeing of humans and the natural environment. The consultation methodology is designed in such a way as to allow for diversity of views, premises, disciplines, themes and contexts. We employ open notebook science principles and the results will be presented in the form of a research report accessible to everyone after the event. You can follow the process, review the methodology and open source tech we are using and engage directly with the research and coordination team here: https://edgeryders.eu/c/ioh/workspace
What is the code of conduct?
It is important to us that everyone in the room feels welcomed and safe; if you have any particular concerns or needs just send me a PM here on the platform or write to nadia@edgeryders.eu .
The Edgeryders online platform technology and activities are intended for people to cooperate within and across projects trying to build a better world. The word "better" has here a fairly broad range of meaning. These Community Guidelines are here to help you understand what it means to be a member of Edgeryders. Don't forget that your use of Edgeryders is subject to these Community Guidelines and our Terms of Service.
What happens with my data?
You can read about our Terms of Use and Privacy Policy here. Also: