Since September a growing team of committed individuals started a very ambitious project called Transport for Cairo (TfC) in Africa's second largest city. Like other megacities, Cairo is an engine of art, business, science and progress; yet suffers from noise, traffic and smog. Transportation planning and policy making has failed.
TfC seeks to map all formal and informal transportation in Cairo digitally, and release all data openly. What might seem obvious and expected of any European city does not exist in Cairo: A clear and comprehensive answer to the question of How do I get there!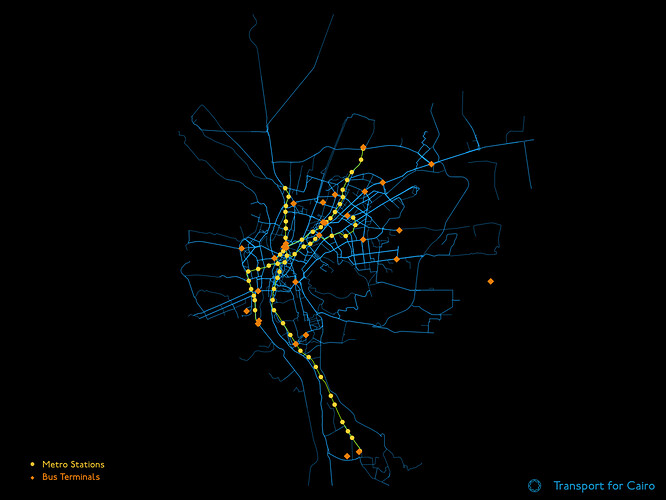 Main Bus Arteries in Cairo
"Cairo is a patchwork of individual solutions"
The Bus network in Cairo evolved progressively over time. Each new bus route created was meant to solve an individual transportation problem. Transportation planning based on expected future needs did not take place. In the 1970's, the government started to license individual bus drivers to operate some routes it could not handle on its own. Over time, some drivers started operating routes that were not licensed by the government to fulfil actual demand by commuters. This is a highly informal way of finding individual solutions to the failure of the wider transportation system.
Little to no information on routes, stops, service frequency or schedules of public buses exist, neither in analogue nor in digital form. Furthermore, 40% of Cairo's transportation is covered by informally organised mini-buses where no information exists at all. Commuters have to rely on unreliable word-of-mouth for trip planning, missing the opportunity to choose the fastest, cheapest or most convenient routes. This is a social issue that affects every Egyptian commuter.
Furthermore, professional planners and researchers lack a comprehensive map of the cities' transportation system. Currently, we do not understand how the city functions. Therefore, any social and sustainable development of Cairo's transportation system is difficult. Inequities in access to health, education and culture foster due to the systems largely informal nature, yet are not quantifiable at present. Targeted action is not possible.
Transport for Cairo is essentially a map of these individual solutions as well. This mapping exercise gives us considerable expertise to share. For LOTE5, we are planning to hold a session to share our experience, discuss the ongoing challenges and debate the vices and virtues of informality. Informal organisation solved the failures of government, yet created challenges of their own. Can informality be leveraged to fix societal problems in a sustainable way?
For now, we will be looking to refine the contents of the session, and the questions we wish to find an answer to. What are your thoughts?
Date: 2016-02-26 23:00:00 - 2016-02-26 23:00:00, Europe/Brussels Time.