Hi everyone,
Just off a meeting with @Khatuna, @gazbia_sorour, @hazem, @inge and @george to discuss where we each are in terms of preparations, what still needs to happen so that when Edgeryders land, we'll be rocking Tbilisi.
There are over 30 of us coming so far, including community members who are in touch but haven't so far registered on the event page. We come from Armenia, Georgia, Egypt, UK, Germany, Romania, Italy, Belgium, Spain, and God knows where else.
What follows are a couple of ideas pointing to where action is happening and where we are in terms of event preparations.

https://www.smore.com/7usjs-edgeryders-countonme-daily-tweets
Some of us in the team, UNDP offices and community members are receiving daily email digests with tweets and social shares, you're most welcome to join in! The shortest way to joining the team is to email me at noemi [at] edgeryders [dot] eu
Armenians: upcoming Facebook campaign
@saidhamideh helps run Edgeryders first ad campaign to reach out to new people in the community who definitely have stories to tell: know what are the most popular pages and groups Said should not miss? We're on the lookout for occupiers, free softies, barcampers, sharers, all those marginal yet highly relevant groups pushing for change. Do comment below if you have advice.
Check out who's who at Futurespotters Tbilisi event (so far)!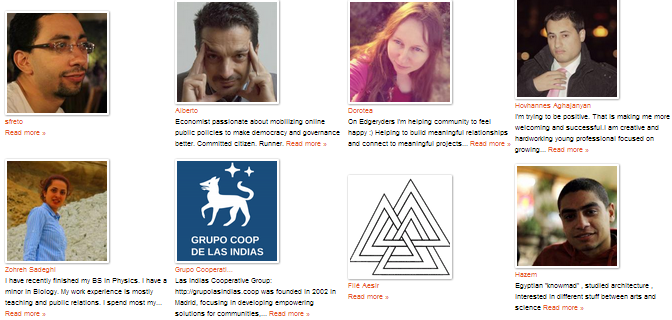 We're setting up a page to show our pretty faces and make it easier for others to know who's coming… If you don't see your name there, get it up by simply pressing "Attend" on this event page. Make sure your user profile has a photo and a short description of your interests, so you show up nicely in the lineup. Ping @anna Meliksetyan @marina.n @Elene_Margvelashvili @boris @abdo and others who are joining…
Building the agenda for June 24-26
Keep an eye on the Events page here on Edgeryders - it's where all session proposals are listed and where anyone can propose more. But do it now, we're already working on a rough structure that includes a show of community experiences in Armenia, Georgia and Egypt and how they shaped interactions on Edgeryders - looking forward to the ethnography results Inga Popovaite will be presenting! followed by concrete tactics on how Edgeryders in different parts of the world are building shared solutions based on global models of collaboration, market activism etc. We will conclude with a couple of sessions on lessons learned from this 3 month exercise and how organisations like UNDP stand ready to support change makers at the edge.
Partnerships
I wonder if @jeff_haack is up for hooking us up with the Open Street Map community in Tbilisi and host their next map jam with us, since some participants might greatly benefit from learning new tools to leverage their initiatives…
I've also asked @samvel who is organising the upcoming BarCamp Yerevan to see if they'd be up for a half-a-day camp to kickstart #Futurespotters Tbilisi. Hope to hear from you soon!
How can you join at this stage?
Turns out bottom up organising of an international event in less than two months in total is crazy! If you're consider joining, don't wait up: tell the others you're coming and put yourself forward to drive anything, what matters is that all of us are vested in building something of use and seeing the value of online collaboration. That's how it starts - small and in steps, and then the next thing you know someone is running a project prototype somewhere in rural Egypt or Armenia, or who knows…
To dos:
Khatuna and Inge to book venue before next week: we are down at Tiflis hotel in central Tbilisi or a location farther from the center.

Noemi and Khatuna to draft a first version of the agenda based on session proposals that are already online and those we know are in the making.

Inge to set a time and call for help for the cooking party the 24th of June in the evening, at Bauhaus bar.

Noemi to keep on scouting most active community members who haven't registered yet and invite them to join, with possibility to reimburse travel and cover accommodation costs – depending on involvement in building the event - joining social media team, proposing to lead a session, helping with graphic design or coding etc. Full list of ongoing tasks here.