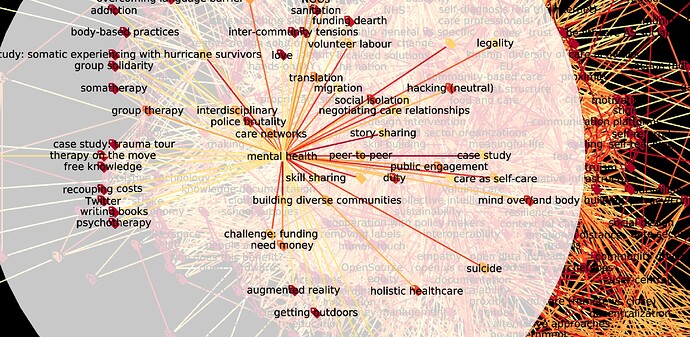 What do you get when you cross ethnography with network science? This is what we want to find out.
In this hands-on session, we work with data from the opencare Edgeryders conversation, that has undergone ethnographic coding. Our goal is to find a rigorous, intuitive and beautiful way to synthesize hundreds of thousand of words in a conversation involving 200 people and over 2,000 ethnographic annotations. We will do this by building, visualizing, exploring and discussing various types of graphs. More inforrmation on preliminary work is here.
Masters of Networks: Ethnography is hosted by opencare and open to all. The research teams of Edgeryders and the University of Bordeaux will play host, providing data and skills for ethnographic analysis, data crunching, network visualization and software development.
Everyone is welcome. We particularly recommend the session to network entusiasts, ethnographers and anthropologists. We are not building a marketing instrument: if your only interest is in surveillance of consumers, this is probably not for you.
We will protoype graph visualization using Tulip: http://tulip.labri.fr/TulipDrupal/
UPDATE - We also made a Facebook event.
Date: 2016-11-28 09:30:00 - 2016-11-28 18:00:00, Europe/Brussels Time.