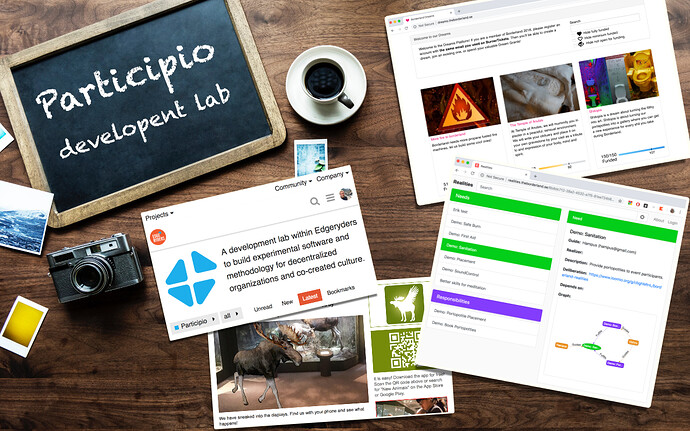 I've been thinking recently about what the Participio project should ultimately result in. It has been launched with funding from the Swedish arts council fund Kulturbryggan to create open source software for participatory culture, and that's what we'll deliver in 2019. For those unfamiliar with the term, participatory culture includes events like The Borderland and Burning Man, immersive productions like Unknown 9 and You Me Bum Bum Train, live action role playing events like Blodsband Reloaded or games by @matteo_uguzzoni and Urban Games Factory.
Methods and software that fit the needs of fringe participatory culture today might very well be key pieces in future mainstream paradigms for a wide range of organizations. I make this prediction because these project are often immensely complex, produced on a relatively small budget by volunteers that can number in the hundreds or even thousands. Decisions are often made by a wide variety of participants asking for advice rather than permission, and the operations are based on trust rather than mandate by hierarchy. Organizations working in the participatory culture field are particularly interesting because they are well fitted to decentralized organizational structures. Decentralized decision making and co-creation is still in it's early stages, but these concepts are hailed as the future paradigm by many. It's likely that it will be increasingly popular in the mainstream world to organize in this swarm-like fashion.
Over the last few years working with the Borderland, we've found that deploying the right technological tools and methods at the right time can give big boosts to a participatory community and ease scaling of the organization and it's projects. However, most tools that exist have been built with tech development projects in mind. A large reason for this is this that this is the market that the people building the tools understand, but also because this is a field that has been flooded with money in recent decades. It's these companies and projects that have brought us technologies like revision control through Git, task management through Scrum methods and tools like Trello and Jira. However, tools for collaborative tech development are often a bit clumsy when used for other classes of projects.
At the Borderland, uptake of the Dreams platform had much to do that it had been designed exactly with that community in mind. This did require us to build things from scratch, though many design principles were inspired by existing technology. Dreams was inspired by services like Kickstarter. Realities is inspired by the task management cards and role assignment of Trello, the dependency terminology of Gantt charts and the graph data visualization of Kumu. In both cases, we've used language and concepts at the heart of the Borderland culture, rather than to force the Borderland to fit some predefined technical jargon. As a result, the Borderland is probably one of the most technically advanced participatory culture communities in the world.
So what's the challenge? Creating software takes a lot of time, effort and specialized skills. And paying in full for custom software development for participatory culture organizations is out of the question, it would be prohibitively expensive. Furthermore, the job market for software developers is such today that it's hard to motivate people to work for hours on an untested experiment. Most developers already have plenty of paid work and would like to spend their free away from the screen. However, paid meaningful and experimental work is rare, so many developers are willing to put in the hours for a fun project if they can just make ends meet.
This is the gap that Participio wants to bridge. We want to raise a pot of funding every year, find these paradigm-shifting challenges, and produce experimental but usable software to fit a specific case as a proof of concept. We will start with the arts and culture field in 2019 but move to other fields later. We will develop with an emphasis on fast iterations, and just enough polish to test the method and technology. We will document every step of the way, and make our code, documentation and research findings open source and freely available.
To reflect this, I've come up with a mission statement.
Edgeryders Participio Development Lab
Participio is a development lab within Edgeryders. Our purpose is to build experimental software and methodology for decentralized organizations and co-created culture. Everything built by Participio is open-source and free to use.
We explore what is ahead of the current paradigm. Our experiments might only fit 0.1% of all organizations today, but might fit 1% in a few years and 10% in a decade. We develop practical and groundbreaking software for real projects and organizations, but don't build finished products or deliver packaged solutions.
Developers, researchers, artists and designers working on Participio projects coordinate their work on this platform. Feel free to make a post about your idea for Participio, or to get in touch with a developer who can help you get one of the tools we've developed up and running for your organization
Based on this, Participio has two goals for 2019. Our first goal is to deliver our first batch of experiments, research and documentation. We already know that the key client for these experiments is The Borderland and that we will do some work on Dreams and Realities. Our second goal is to raise funding for 2020 and define our future challenges.
We also know that Participio will have a physical home. Edgeryders is moving into the Blivande House in Stockholm in January, and those working on Participio and other Edgeryders projects will have a place at a desk there while they do so.
What do you think about this plan? Who should be involved? What challenges should we look at?
I'm starting this conversation here in Campfire so that more people can see it and get involved, and will later move it to the Participio category. @alberto, @matthias, @nadia, @anique.yael, please help me tag some people that could be interested.