STATUS UPDATE:
First draft of the insights section is completed:
263421647-Can-networked-communities-steward-public-assets-at-scale.pdf (37.1 MB)
Next step: interactive influencer directory space, currently under development
[This wiki is a working draft of the call for contributions the book. It requires further editing and some CSS/HTML formatting to make it look professional! - please leave your feedback in the comments]
Edgeryders to write handbook on grassroots collaboration in the age of networks
We're crowdsourcing a book, and we're calling on emergent influencers to lead a chapter that addresses "networked collaboration"!

As many social projects and responsibilities decentralize and general populations begin to assume greater ownership of their futures, we strive to mentor, empower, learn from, and partner with thought leaders who are developing new solutions for communities that are losing access to legacy resources previously made available by governments, corporations and large NGOs.
"Networked collaboration on the Edge: The Alternative to Problem-Solving Leadership in Times of Crisis" is a digital handbook and collection of case studies and thought pieces that brings together cutting-edge solution-oriented leadership in areas of open source software, eco-friendly communites, non-transactional economies, urban agriculture/sustainabilitiy, collective intelligence experiments and more.
Examples of Networked Collaboration where grassroots solutions will address environmental, political, economic problems
| Project \#1 | Project \#2 | Project \#3 |
| --- | --- | --- |
| please add photo here | please add photo here | please add photo here |
| Add one paragraph description of project (case study) here | Add one paragraph description of project (case study) here | Add one paragraph description of project (case study) here |
We are hacktivists, artists, writers, social innovators, designers, engineers, entrepreneurs, policymakers, researchers and many more that don't easily fit into categories -- and we're prepared to boost the visiblity of your work through the Edgeryders Influencer Platform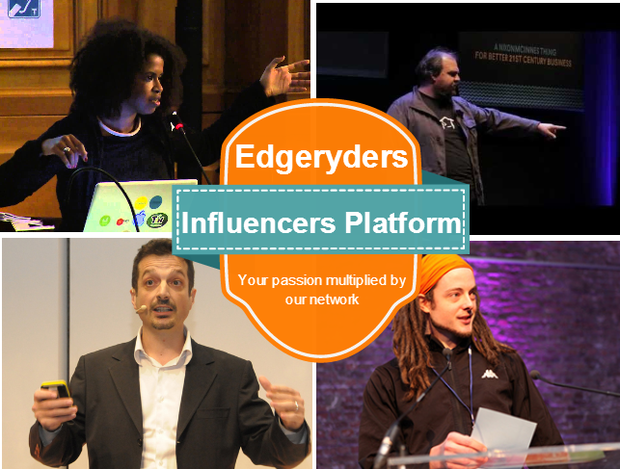 LOTE4: The Stewardship from Edgeryders on Vimeo.




We support your work with crowdsourced research

Host a panel at "Living on the Edge" 5 (#LOTE5)

Your book chapter becomes a social platform through our network

There is great overlap between your work and what our members spend time thinking about. We are non-spectators looking to make things happen now.

Whether we can be of use as focus group participants or research assistants, our 2000+ network of citizen experts are passionate about social innovation and are ready to contribute high-level support to promising causes.

This event in City, Country aims to set the foundations for a global networked collaboration ecosystem where solutions oriented conversations produce openness, collaboration and a "get it done" attitude.

Participants in previous LOTE events have included Amelia Andersdotter, previously member of the European Parliament on behalf of the Swedish Pirate Party, Fabrizio Barca, General Director at the Italian Ministry of Economy and Finance, Robin Chase founder of Zipcar and other notable change makers.

Edgeryders wants to maximize the free flow of information by publishing insights across media types and channels, so a book is a minisite is an interactive campaign is a wiki is a conference session.

All of it integrates with the purpose of bringing greater audience participation and buy-in to your work as it progresses in dialogue with our network and constituent audiences.
Want to author a contribution to the book and conference? Let's talk!
Think about a person or project that you feel is interesting and contributing towards improve something near you (in your country, city, town or village). It can be you, or someone you know. It can also be someone you have never met but would like to have an opportunity to get to know. Get in touch and Shine a light on their work!
We will respond with questions to help you develop it into an engaging case study for you and others to learn from and contribute to. Once you and the editors happy with the result, it goes into the book. But hurry, the final date for submissions is July 10.