I attended the stakeholders' dialogue on the future of internet governance on June 6th, an event initiated as part of the United Nations' Secretary-General High-Level Panel on Digital Cooperation .
For those who are interested, I wrote a full summary: The Future of Internet Governance.

I have mixed feelings on the UN internet governance initiatives, but I do think they can be important for intra-State conflicts. The UN is looking at three different models for coordination among stakeholders:
Internet Governance Forum+ (IGF+): this model reflects the current structure of internet governance and the United Nations, with some enhancements.
Digital Commons Architecture (DCA): a simplified structure of three bodies, a tech panel, a digital commons platform, and an architecture secretariat, that coordinate through the existing infrastructure at the United Nations.
Distributed Co-Governance (CoGov): two bodies, network support platforms and digital cooperation networks , that coordinate through a network of networks.
I found the DCA a compelling, internet-native model that sacrifices some of the speed of more centralized UN control. I somewhat doubt they will implement the model, but it is one I lobbied for: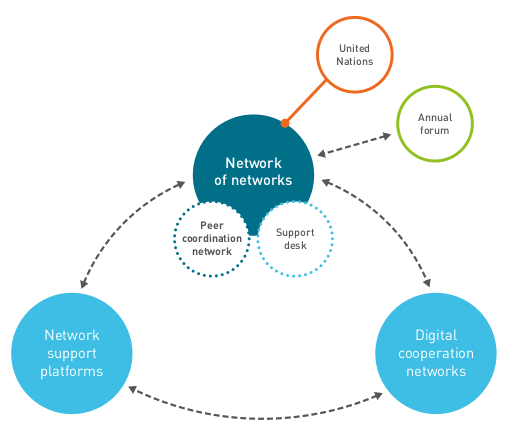 Full details on all the rest in the The Future of Internet Governance
blog post, with pretty graphs.