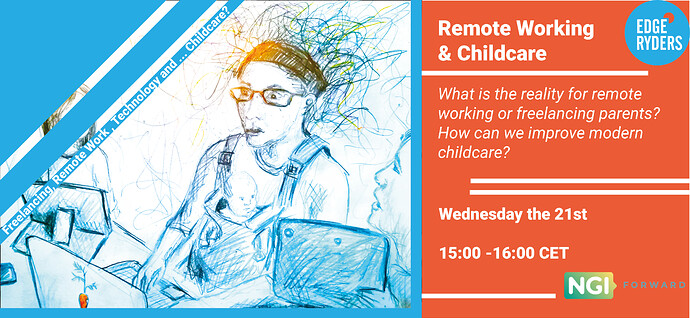 This event is free and has no commercial intentions. It is part of a research project.
The event will take place Wednesday the 21st 15:00 -16:00 CET. It is a 1h online session with an expert panel having a conversation on the topic while the audience can engage via questions in the chat.
It bridges between the coworking event we had in July and the resilience summit but is an independent session that will be part of the Freelancer Week
Dear freelancers, other remote workers, coworking spaces and also employers,
We need to talk.
We need to talk about the realities of childcare for freelancing and remote working parents.
Have your employers/clients adapted to balancing out how your needs might differ now?
What is the reality in your household? How many hours do you spend working from your screen every day, and how much time does your child spend during that time using technology themselves?
Which role does technology currently actually play in the reality of childcare in remote working households?
We want to have an honest and unbiased conversation about how childcare looks like in the time of home offices. What are the challenges, advantages, problems, personal stories of collapses as well as successes.
Let's have this conversation together!
Contribute to this thread with your questions and experiences.
Come to the discussion
Post relevant links or contacts to explore this topic bellow.
To register for this event just comment on this topic.
You will be sent the zoom link to join the session 1 day before the event (another round of links will be sent out 1h before the event for those who register late).
You can use this link to share the event: https://tell.edgeryders.eu/14568
This event is part of the NGI Forward project Generation Internet (NGI) initiative, launched by the European Commission in the autumn of 2016. It received funding from the European Union's Horizon 2020 research and innovation programme under grant agreement No. 825652 from 2019-2021.
The call will be recorded for research purposes. Please read details about that process in this info sheet: Participant Information Sheet for "Freelancing, Remote Work, Technology ... and Childcare". By joining the call you are consenting to the recording as described in the information sheet.