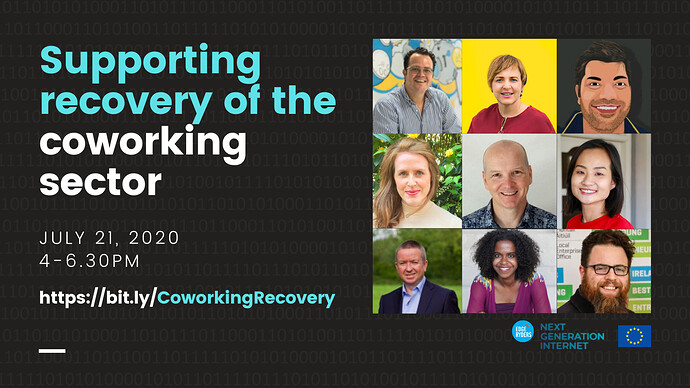 A Virtual Summit on supporting the recovery of the co-working sector in the wake of COVID-19, with an emphasis on the role of technology in that rehabilitation process. Three key groups are being consulted to be involved:
Co-working space owners
Technology providers to the co-working sector
Networks and representation bodies for the co-working sector
Before the live online summit event: Focused interviews with key players from the groups listed above. These will be conducted with a moderator and result in transcripts that will contribute to the final themes and discussions during the event on the 21st of July.
Summit sessions will be moderated roundtables with key industry figures and wider sector participants. Keynote introduction by author and industry advisor John O'Duinn.
Featured Participants
John O'Duinn , Founder, Mentor, Author, Keynote Speaker
Rowena Hennigan , Remote Work Educator and Expert, Webinar Producer and Keynote Speaker
Nadia El-Imam , Co-founder, Edgeryders and creative director for the European Commission's Next Generation Internet consultation platform.
Co-working space owners
Nacho Rodriquez , Citizen of the World, Entrepreneur & Remote Work Advocate, Founder- Co-living and Co-working Canary Islands, Spain
Mayur Sontakke , Founder Co-living Co-working Nomad Gao, Goa, India


Technology providers to the co-working sectors
Jonny Cosgrove , Founder Meetingroom.io - VR meeting room software, Dublin, Ireland
Erin Westover , Market Lead Europe, Upflex, Berlin, Germany
Networks and representation bodies for the co-working sector
Gary O'Meara , Chairman NACEC, National Association of Community Enterprise Centers (and digital hubs), Ireland
Faye Alund , President of Co-working Indonesia, Owner of Kumpul co-working
A 2 hr online process to accelerate offline impact
Discussion & Co-creation
The virtual summit is organised using EdgeRyders events methodology. The process begins when an idea or solution is posted on the online event forum, sparking discussion among community members. Some join in, actively listening, asking questions or giving thoughtful responses. (This is a safe place and not for debating opinions or speaking for others.)
The discussion begins with first hand accounts of attempts taken to solve the issues at hand and moves to navigating the personal challenges experienced by participants. Nuances and the various different contexts surrounding these challenges begins to show.
Information analysis & Action
Next open source technology is used to make connections between topics being discussed, the people discussing them, places, projects, solutions and struggles. When we put this together, patterns start to emerge that help join these ideas and people to each other and to other information, skill and resources.
By the end of the process, participants have gained a richer knowledge and understanding of the issue they wish to tackle and have a blueprint to put their idea into action.


Format of the live online event
A Zoom meeting. We will send you the link after you create your

Not a panel, an open, moderated discussion. A moderator will give the floor to people who want to contribute something. Some have already volunteered (see list below, updated continuously). If you want to share your point of view, use the call's chat to let us know, and the moderator will give you the floor. If you have a question to ask the speaker, ask it in the chat (better) or let us know you want to ask a question. Questions are taken before we move on to the next speaker.

We commit to doing a proper write up of the result (aka "documentation, or it didn't happen"). Edgeryders also deploys its team of ethnographers for participant observation and note-taking.

Everyone welcome . We our coordinators will read everyone's introductions on the online forum and use it to put together a summary in a way that facilitates networking amongst participants.
How to participate

The process with require 3 hours of your time:
Introduce yourself & meet the others ( 3 mins)
Participate in the video chat (2.5 hr)
Leave comments on the forum sharing your thoughts ( 35 min)
Optional (+ 1. 5 hr): If you want to be involved in new opportunities for collaboration with other participants - you can come to the follow up call to explore ideas for collaboration born out of the process + do some follow up work
Register now
Create an account and write a short introduction to yourself here .
We send you the url and password to access the live online event.


---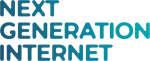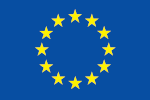 This event is part of the NGI Forward project Generation Internet (NGI) initiative, launched by the European Commission in the autumn of 2016. It has received funding from the European Union's Horizon 2020 research and innovation programme under grant agreement No. 825652 from 2019-2021.
You can learn more about the initiative and edgeryders role in it at https://ngi.edgeryders.eu