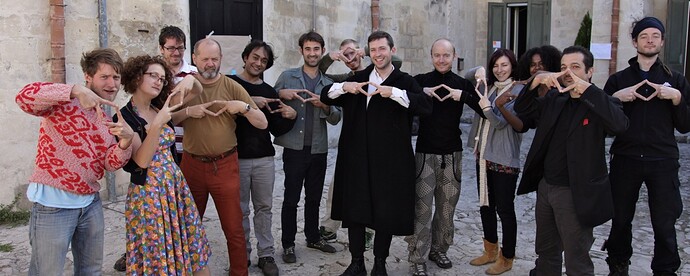 Matera, in Italy, is a very special place. It is special in and of itself, with its remarkable resilience (it has been continuously inhabited for nine thousand years, which makes it one of the oldest cities in the world) and its eerie beauty; but it is very special for Edgeryders in particular. Matera is home to the unMonastery; was the seat of Living On The Edge 3 – the unPilgrimage in 2013, and is going to host Living On The Edge 4 – the Stewardship, too.
So, it is with joy, pride and a strong sense of place that I announce a new partnership between Comitato Matera 2019 and Edgeryders to build a civic innovation network. With this term, we mean an ecosystem of meeting places, relationships, initiatives and services that enable ordinary citizens to lead in making innovation, and specifically innovation aimed at the common good. The unMonastery is a strong candidate to be one of the hubs of this network; but what defines networks, ultimately,is always connectivity – not nodes, but links. Edgeryders will deploy activities aimed at strengthening the ties Materan civic innovators have already developed with their counterparts in the rest of Europe; and at building new one.
One such activity, of course, is to be LOTE4. Another one is this: we are willing to support a limited number of people for participating in conferences all around Europe to let people know what Matera is doing and has already done in the area of citizen-led innovation; from open (geo) data to teaching children to program, from walking ethnographies to Arduino-assisted solar trackers and monitoring systems for hydroponic gardening.
Support would consist of a 400 EUR cash refund. We would like to see you as a featured speaker in a conference on social innovation or some related theme. The talk can be in any language. Ideally, we would like that the conference is of the kind that produces high-quality video: TEDx are perfect, for example. We encourage unMonasterians in particular to share their experiences. Contact @Alberto for details if you are interested!