Registration: https://register.edgeryders.eu/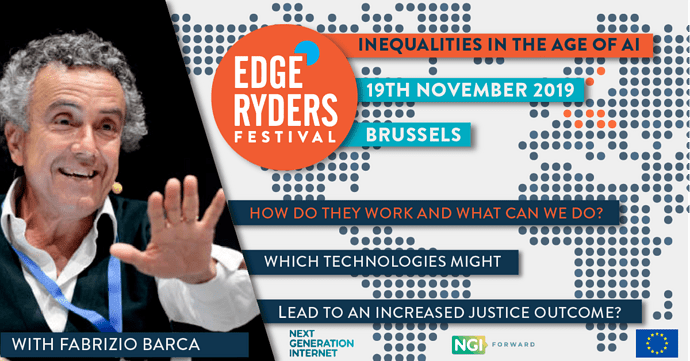 Are certain technologies more likely to lead to an outcome of increased justice than others?
The Forum on inequalities and diversity – a coalition between civil society organizations and researchers headed by Fabrizio Barca, former Minister of Treasury in Italy - recently released a report called 15 proposals for justice. The report gives prominence to the consequences of technical innovation on inequalities and justice.
Globally, increasing inequalities have generated widespread injustice. Fear, resentment, and anger have escalated among the more vulnerable sections of society, giving rise to an authoritarian dynamic. We propose that this state of affairs is not inevitable; it is, rather, the result of a U-turn in policy and culture that has taken place over the last 30 years.
This evening event convenes policy makers and academics and technologists to look in more depth at the issue of how equality and justice are encoded in technological choices.
We are going to look at the main technologies being developed in the Next Generation Internet debate and explore how AI and Internet Infrastructure impact on indicators of equality and justice. Putting in the same room technologists, economists and social scientists should allow for a more holistic perspective.
Hopefully, we can provide some material to the European Parliament and European Commision that will shape the governance of and investment in a Next Generation Internet that sets the conditions for improved social justice and equality.
Format
To ensure a deep, technical, discussion we depart from a set of case studies.
Ahead of the event: we collectively do research and collect stories of well-documented incidents where certain injustices manifested. We post them here on the platform and invite people to post questions/reflections in comments to help us develop them into good case studies.
During the event: We split the participants into different groups based on the case study of interest to them. Each group is well composed in terms of the areas of expertise of participants needed to have a deep, rich and pragmatic discussion around "their" case study. And look at the interdependencies in terms of policy, business models, behaviours and technological choices. The session ends with a fishbowl discussion.
After the event: The documentation from the discussions are redacted to ensure privacy of participants, then posted on the online discussion space for the festival. This enables us to do a number of things -
easily reconnect with people we met across shared/complimentary interests
build a high quality report summarising what knowledge has emerged from the discussions
keep everyone informed about new, relevant, opportunities for professional and personal development, follow up events etc
We can also accommodate remote participation, there is a separate process for this. Just leave a comment below or email me for more info: nadia@edgeryders.eu
Registration
Tickets to this event are free of charge: Edgeryders Forms
Who is coming?
Fabrizio Barca - Founder, Forum on Inequalities and diversity I Ex General Director , Italian Ministry of Economy & Finance.

Seda F. Gürses - Assistant Professor in the Department of Multi-Actor Systems at TU Delft at the Faculty of Technology Policy and Management. Studies conceptions of privacy and surveillance in online social networks, requirements engineering, privacy enhancing technologies and identity management systems

Kate J Sim - Phd researcher at Oxford Internet Institute: employs employs ethnographically-informed methods to uncover how gendered assumptions and values are encoded in emerging data/AI-driven systems. Kate's question for the workshop: Can tech design for survivors?

Marco Manca - Member of Nato Working group on Meaningful Human Control over AI-based systems. Co-Founder and Chairman of the Board of Directors at SCimPulse Foundation.

Nadia Alter: Impact Director, Edgeryders

Justin Nogarede: Digital Policy Adviser , Foundation for European Progressive Studies (FEPS)

Remote contributions from Corinne Cath-Speth - PhD Candidate at the Oxford Internet Institute and Alan Turing Institute for AI. Read what Corinne has to say about the impact these technologies have on how Civil Society will work in the near future?
Frequently asked questions
When and where is it happening?
Date: November 19, 2019
Time: 18:00 - 21:00
Location: Brussels. Venue is Digityser on Boulevard d'Anvers 40, 1000 Bruxelles
How do I get an invitation/ticket to this workshop?
Register here: https://register.edgeryders.eu/
Please note: This event is bringing together people who are currently directly involved in building, researching, regulating, monetising and or providing meaningful input into the wider debate around the technologies in question. We want to ensure that every participant leaves the venue having presented and discussed their work with others who can provide meaningful input or connect them with opportunities to further their professional and or personal development. If this appeals to you, then we would love to have you join us.
How is this event being organised?
This event, and the festival it is part of, is coordinated on the edgeryders platform (where you are now) and co-curated through a series of community video calls. We have allocated a collaboratively managed budget for the festival and operate on a solidarity basis. Participants who need some financial support to organise or be able to participate in the festival are eligible provided they contribute towards making it a meaningful and generative experience for all - in the run up to, during and/or after the event. If you would like to join us but are unsure as to how to contribute, don't worry. Create an edgeryders account, then tell us a bit about yourself here and we will guide you along from there.
I (@nadia) am coordinating this event, with @rmdes (venue and communication support), and @J_Noga (Moderation and session preparation) and @inge (documentation coordination) Some people have been specially invited as guests because the work they are doing right now and their expertise will help ensure that the discussion is based on case studies, credible data and hands on experience.
How is this all financed?
This event is part of the NGI Forward project Generation Internet (NGI) initiative, launched by the European Commission in the autumn of 2016. It has received funding from the European Union's Horizon 2020 research and innovation programme under grant agreement No. 825652 from 2019-2021. You can learn more about the initiative and our involvement in it at https://ngi.edgeryders.eu


Does getting involved mean I endorse the funders views or actions?
No. What you are doing is contributing to an open consultation on the topic of how to build a next generation of internet infrastructure, technologies, business models etc that promotes the wellbeing of humans and the natural environment. The consultation methodology is designed in such a way as to allow for diversity of views, premises, disciplines, themes and contexts. We employ open notebook science principles and the results will be presented in the form of a research report accessible to everyone after the event. You can follow the process, review the methodology and open source tech we are using and engage directly with the research and coordination team here: https://edgeryders.eu/c/ioh/workspace
What is the code of conduct?
It is important to us that everyone in the room feels welcomed and safe; if you have any particular concerns or needs just send me a PM here on the platform or write to nadia@edgeryders.eu .
The Edgeryders online platform technology and activities are intended for people to cooperate within and across projects trying to build a better world. The word "better" has here a fairly broad range of meaning. These Community Guidelines are here to help you understand what it means to be a member of Edgeryders. Don't forget that your use of Edgeryders is subject to these Community Guidelines and our Terms of Service.
What happens with my data?
You can read about our Terms of Use and Privacy Policy here. Also: