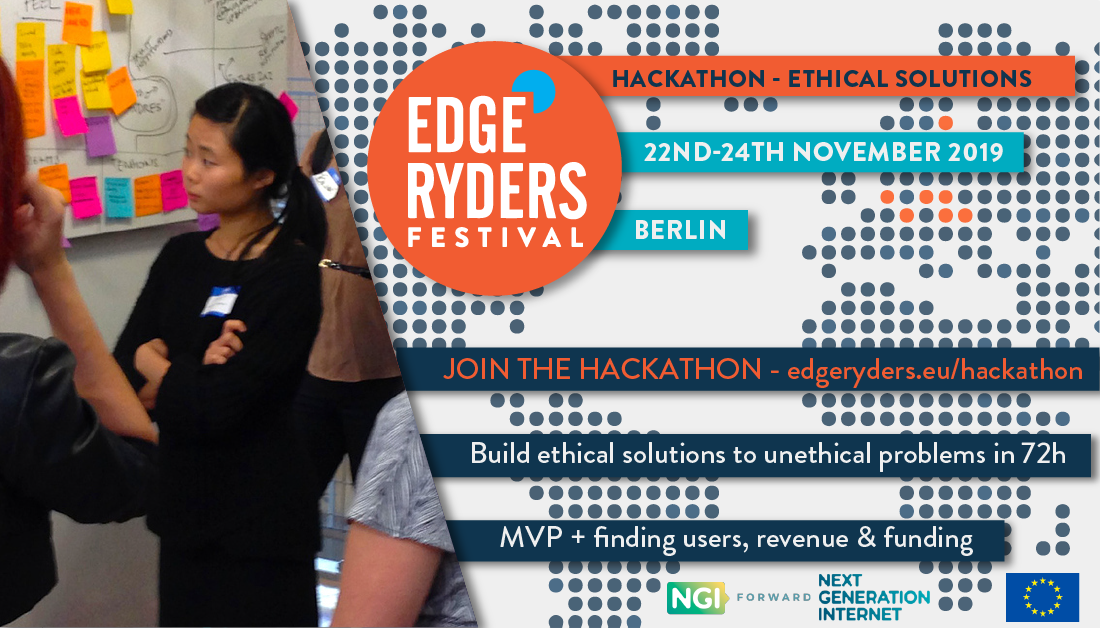 Do you want to build ethical solutions to unethical problems in 72h?
Building a working Minimum Viable Product, finding users and sustainable revenue, and getting more funding.
People using the internet today face many difficulties. Their privacy is violated, their buying behaviours manipulated and their information diet is unhealthy. The social fabric is ripped apart and trust in each other and the vital institutions of our society is at an all-time low.
What solutions and approaches does it take to build ethical & sustainable (technology-driven) organisations that work for the people? What approaches to off- and online facilitation could work to bridge a growing social divide? What art installations or performances could inspire healing?
On November 22-24th, your team can take part in the EdgeRyders Festival Hackathon in Berlin to put your plans into action.
In this hackathon you're not just hacking together something that is trashed after the weekend.
Supported by a community of 5000 activists, developers & designers we want to help you to get to the next steps of building a working Minimum Viable Product, sustainable revenue, and getting more funding from the NGI program and beyond.
This event is for your whole team and it is not only for building software. Facilitators from the field of organisational design, team management & mindfulness will guide you through a journey to connect with yourself, your team, your community and your project's purpose. We'll also run a Warm Data Lab. there.
Everything will be centred around the question: "what does sustainability mean in practice?&quot
This is a community created event where we help each other with the expertise we can share to kickstart new projects into the world. Come Join


Why should you participate in this hackathon?
Obviously to have fun and to kickstart a project
Collaboratively help one another to uncover vital questions to solve in order to build a sustainable project/product/organsation that is capable of getting funding afterwards
Edgeryders community can offer

a good way to find people joining at the hackathon or project in the long-term
coaching on how to apply for NGI grants.
coaching on recognise their current needs, and give feedback to their proposals
connections and tips on how and where to get funded
---
How to take part in the Hackathon
Create an edgeryders.eu account
Tell us about your proposed project here.
Look at the list below and pick one or more tasks that you can help with, and leave a comment here if there is a way for you to contribute. Very much appreciated!
Contribute to make a great hackathon
Edgeryders events are organised by and for the community.
What is not organised is not there, so see where you can help with from the list below.
If yes, just leave a comment below telling us what you will work on. Thanks a lot

Location suitable for 40-60 people (6-10 teams á 4-5 people + organisers, visitors)
Beamers, Microphone and speakers, stage
Fast internet connection
Ways to make the hackathon place cozy and immersive

Comfy couches, big sitting backs to sleep and just chill.
Tables to work at with electricity

Help @BlackForestBoi to coordinate the process of requirements engineering, matchmaking skills and needs
Person(s) to organise communication with teams, spread messages, organise calls and publishing of requests for the teams who seek support - @inge @anon82932460
Moderator for the event
Coaches:

Business Models & Product development, Open Source development
Person very familiar with NGI funding program
Person well connected with other funding networks/opportunities

Someone taking care of the projects onboarding to Edgeryder community - @MariaEuler @johncoate
Questionnaire to evaluate project status and needs in the pre-hackathon onboarding process
Organising Team
@BlackForestBoi @MariaEuler @inge @anon82932460 @nadia …and YOU!
---
Frequently asked questions
How do I get an invitation/ticket to this workshop?
Create an edgeryders.eu account
Tell us about your proposed project here.
Look at the list below and pick one or more tasks that you can help with, and leave a comment here if there is a way for you to contribute. Very much appreciated!
How is this event being organised?
This event, and the festival it is part of, is coordinated on the edgeryders platform (where you are now) and co-curated through a series of community video calls. We have allocated a collaboratively managed budget for the festival and operate on a solidarity basis. Participants who need some financial support to organise or be able to participate in the festival are eligible provided they contribute towards making it a meaningful and generative experience for all - in the run up to, during and/or after the event. If you would like to join us but are unsure as to how to contribute, don't worry. Create an edgeryders account, then tell us a bit about yourself here and we will guide you along from there.
How is this all financed?
This event is part of the NGI Forward project Generation Internet (NGI) initiative, launched by the European Commission in the autumn of 2016. It has received funding from the European Union's Horizon 2020 research and innovation programme under grant agreement No. 825652 from 2019-2021. You can learn more about the initiative and our involvement in it at https://ngi.edgeryders.eu
Does getting involved mean I endorse the funders views or actions?
No. What you are doing is contributing to an open consultation on the topic of how to build a next generation of internet infrastructure, technologies, business models etc that promotes the wellbeing of humans and the natural environment. The consultation methodology is designed in such a way as to allow for diversity of views, premises, disciplines, themes and contexts. We employ open notebook science principles and the results will be presented in the form of a research report accessible to everyone after the event. You can follow the process, review the methodology and open source tech we are using and engage directly with the research and coordination team here: https://edgeryders.eu/c/ioh/workspace
What is the code of conduct?
It is important to us that everyone in the room feels welcomed and safe; if you have any particular concerns or needs just send me a PM here on the platform or write to nadia@edgeryders.eu .
The Edgeryders online platform technology and activities are intended for people to cooperate within and across projects trying to build a better world. The word "better" has here a fairly broad range of meaning. These Community Guidelines are here to help you understand what it means to be a member of Edgeryders. Don't forget that your use of Edgeryders is subject to these Community Guidelines and our Terms of Service.
What happens with my data?
You can read about our Terms of Use and Privacy Policy here. Also: